I can't think of anything I'd rather share with you on this wonderful April day than this luxe, altogether gorgeous London celebration and its nods to Middle Eastern and Scottish heritages.
With a bride in a statement Zac Posen gown, a bevvy of beautiful bridesmaids and photographs that 100% completely capture all the love and affection between the couple, let's take a look at this fabulously joyful, eighties-inspired day.
It's a delight to introduce freelance stylist Lara and visuals manager Tony, who married on 15 October 2021. Their ceremony was held at St John at Hackney Church in East London with the newly-weds and their guests hopping into a classic red London bus to travel to the reception venue, the sophisticated and glamorous Kimpton Fitzroy hotel in Bloomsbury. The 1980s were a firm styling inspiration for the couple and their day, along with aspects of Middle Eastern and Scottish heritage.
Photography Matilda Delves Photography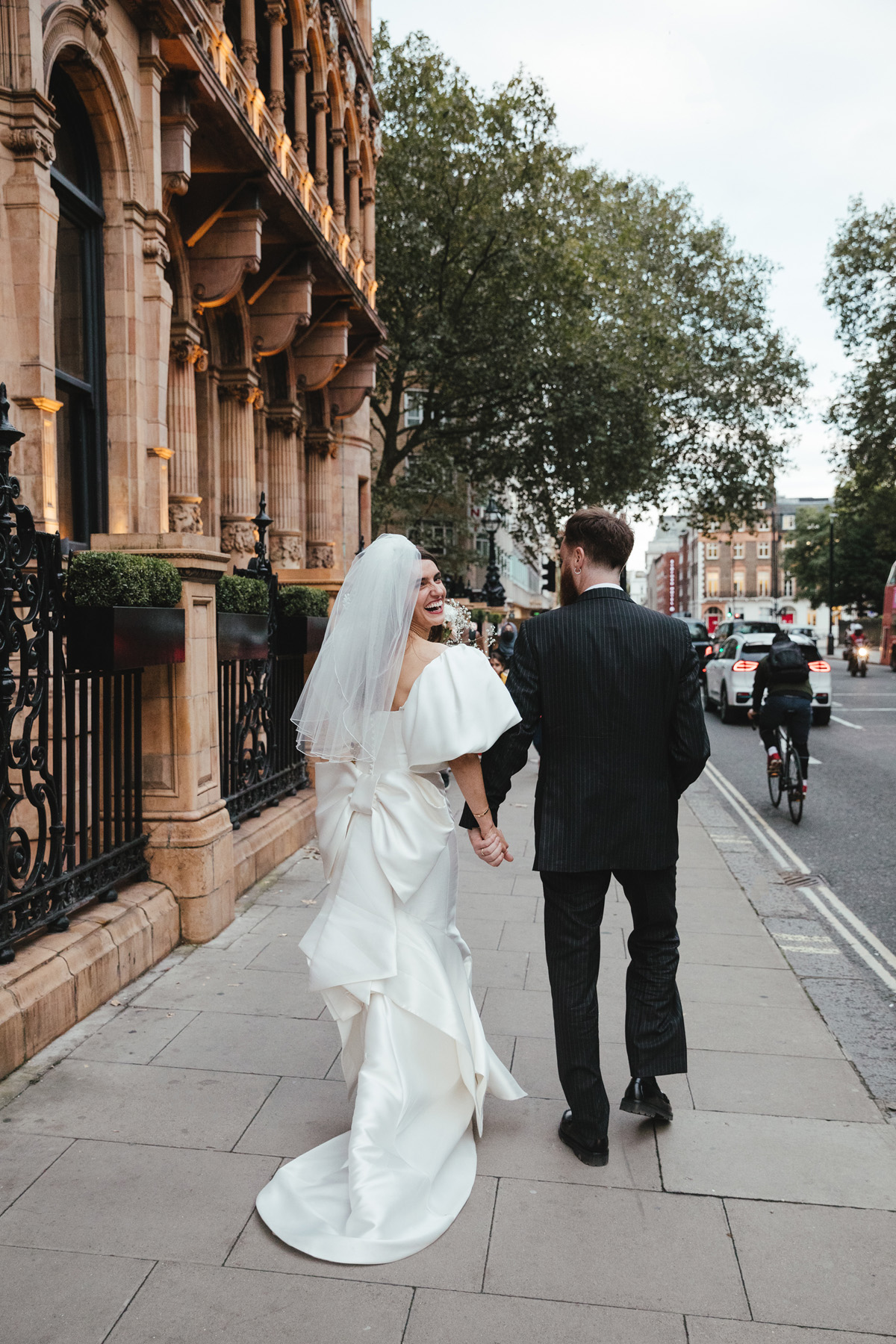 The bride selected a super-luxe, satin ball gown from Zac Posen via Mirror Mirror London, with a huge, statement bow at the back, channelling absolute 80s vibes in a totally contemporary and romantic way. Head to Mirror Mirror's Wedding Directory listing for more about their incredible designers and gowns.
"My gown was Zac Posen with additional details added and designed by myself with the assistance and kindness of Meb at Mirror Mirror. "
"t the first one I tried on in July 2020 amidst a break in the first lockdown, when shops could open. I felt very grateful to be able to even try a dress on."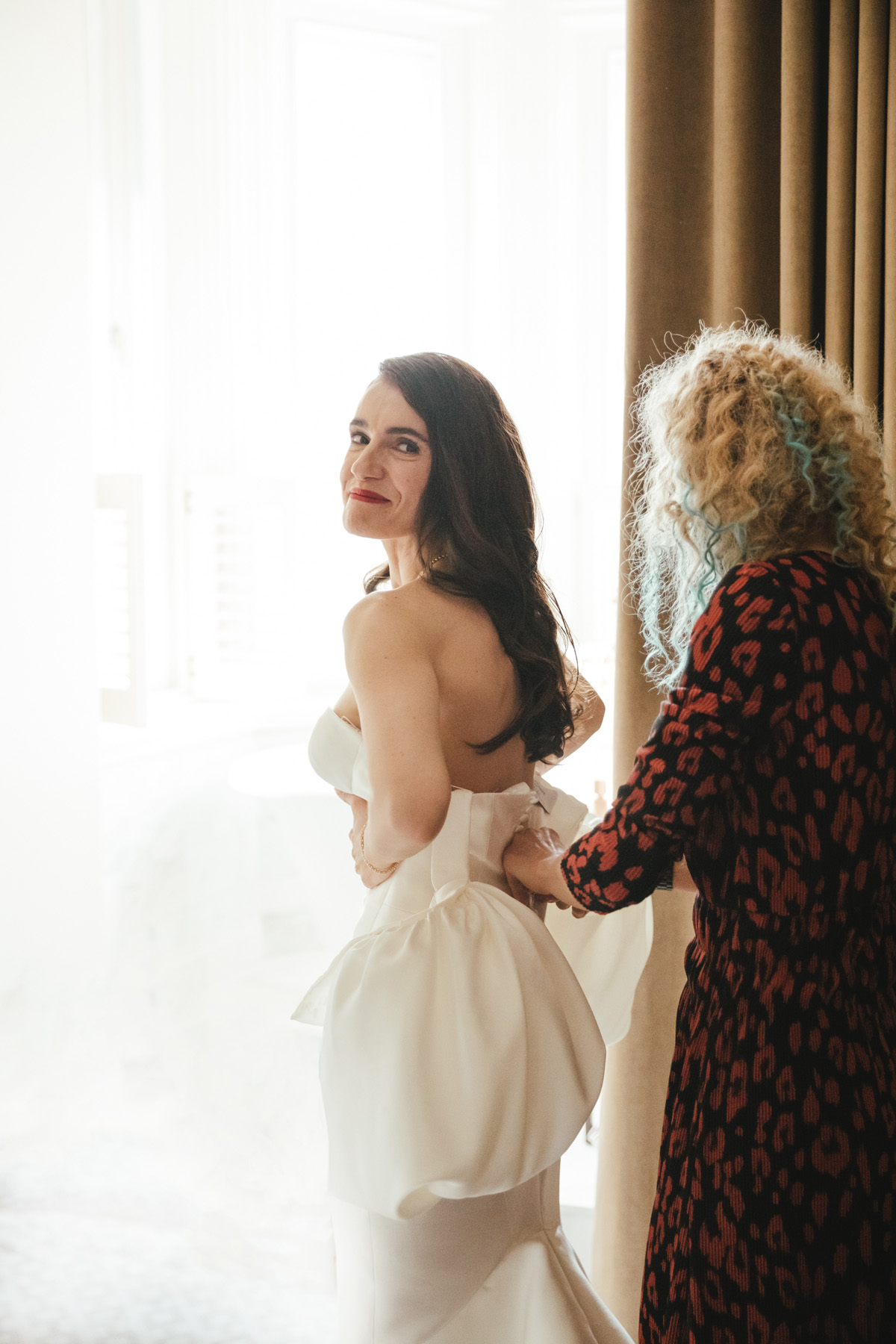 "Both my sisters bought their wedding dresses at Mirror Mirror and I had accompanied both of them on several fitting trips. Meb, our fitter extraordinaire, had coincidentally done the same for both my sisters, which was very special."
"I tried my Zac Posen dress on first and as I came out of the fitting room my mum and sister Leila gasped. When my mum said, 'Wow', I knew it was the one."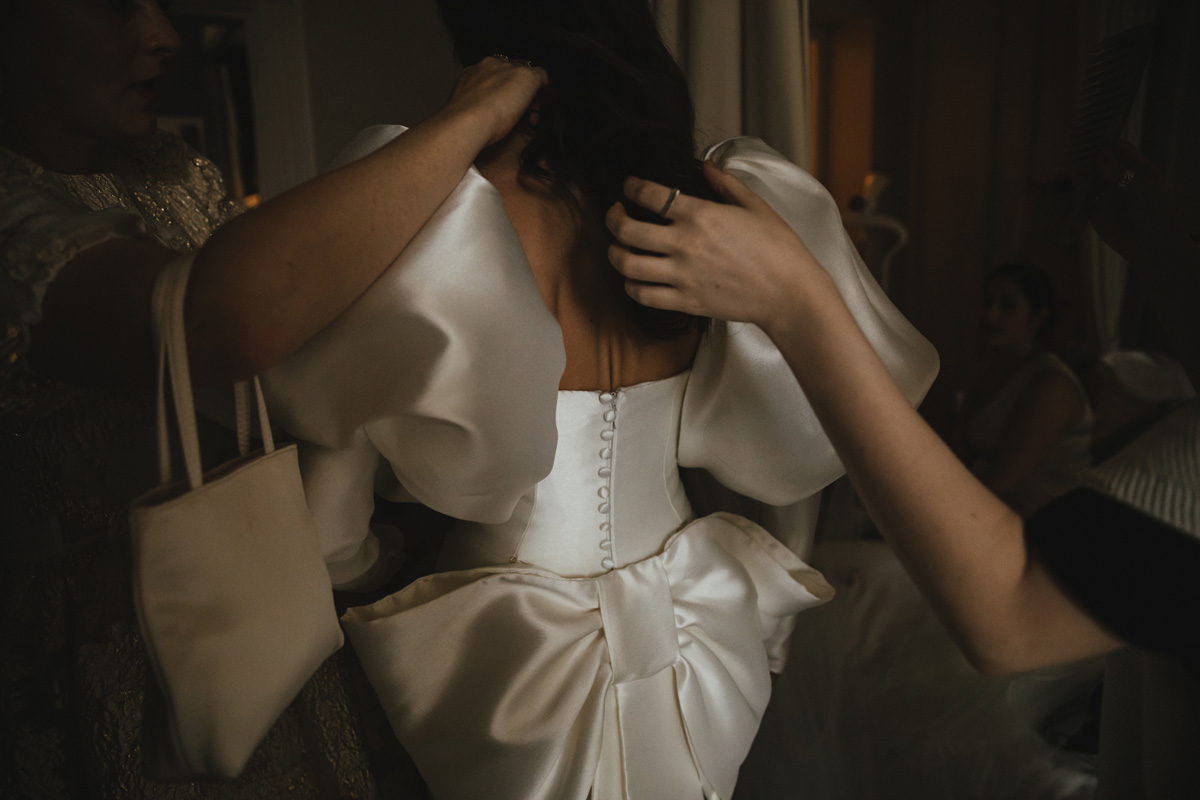 "Throughout the entire process, which was halted several times due to lockdowns, I never worried about my dress. Meb and the team couldn't have been more kind or helpful throughout and I felt incredible every time I tried her on."
"I loved the idea of something classic. My inspiration was a lot of 80s dresses – dramatic, classic but also sexy with lots of over-the-top accessories that could change throughout the evening. My dress was exactly that. As we were having a church ceremony, I preferred to have my arms covered and the puffed sleeves could be off the shoulder or on."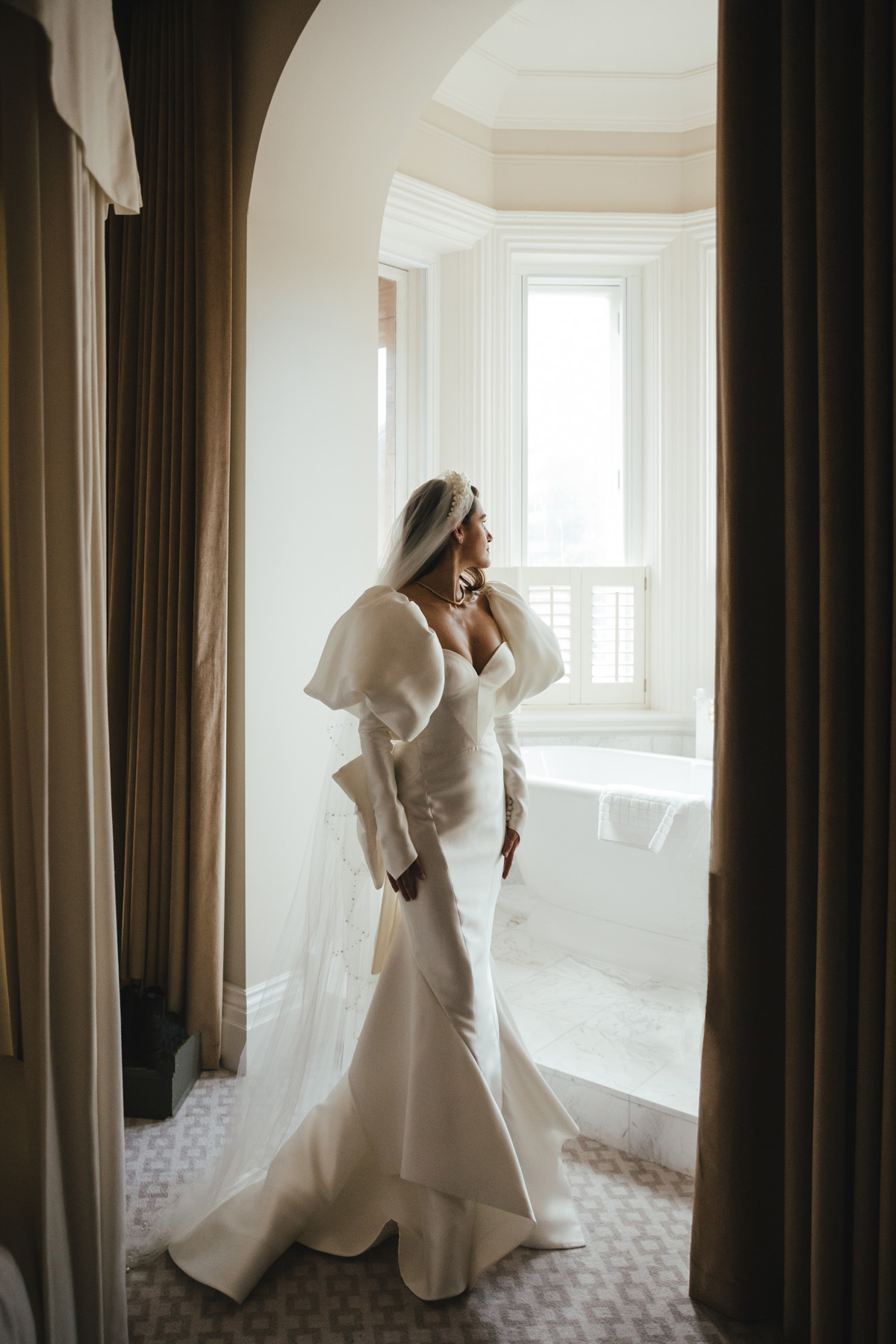 "The detachable bow was my favourite part of the dress. I would have worn it on my head attached to my veil if I could have! My mum amazingly collected all the parts of my dress that kept changing throughout the evening – the bow stayed on for the entire evening though."
"Meb added a Madonna-inspired thick strap to hold me up but by the end of the evening, the sleeves, puffs and straps were off and only the bow at the back remained. I loved everything about my dress; looking at pictures in the church the satin was glistening and it was just perfection. I only wish I could wear it again."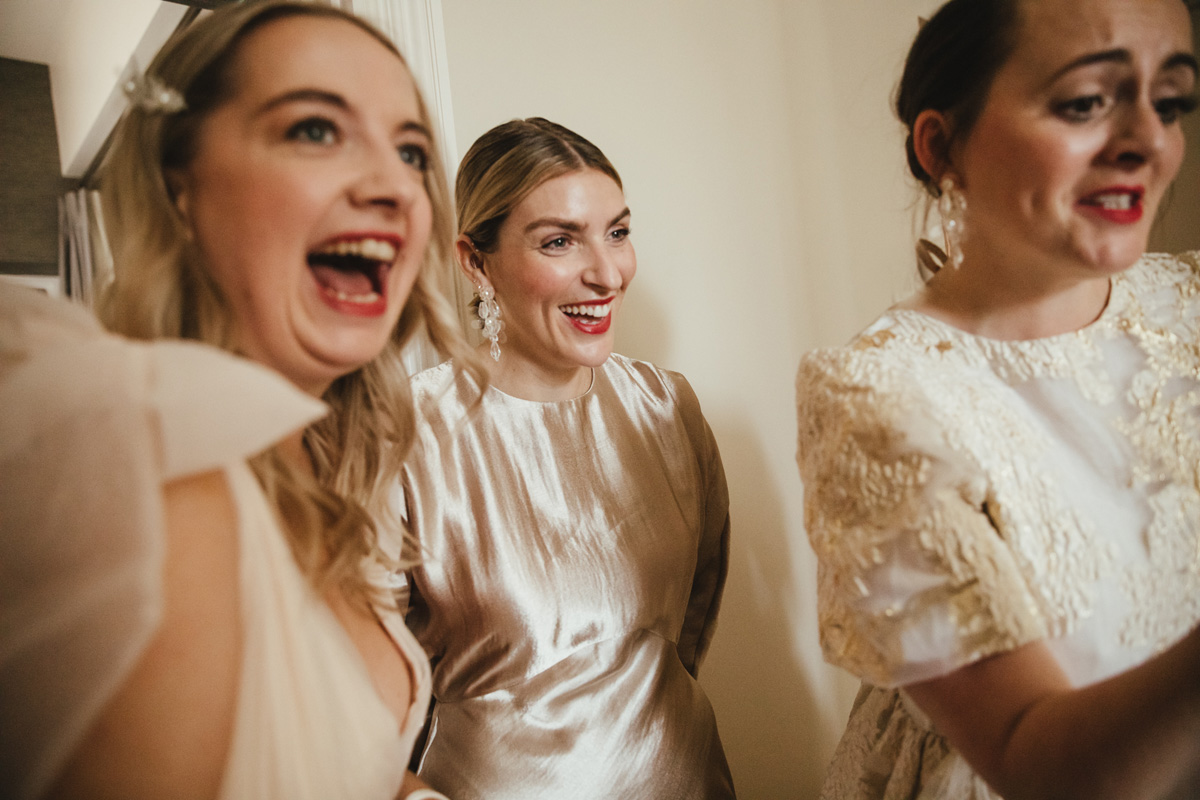 "Meb kindly came to the hotel to help dress me. I couldn't have done it without her. She has an incredibly calming effect on me and has done since I met her."
"She truly is a phenomenal woman and a credit to Mirror Mirror, all of whom helped make my dress and experience what it was."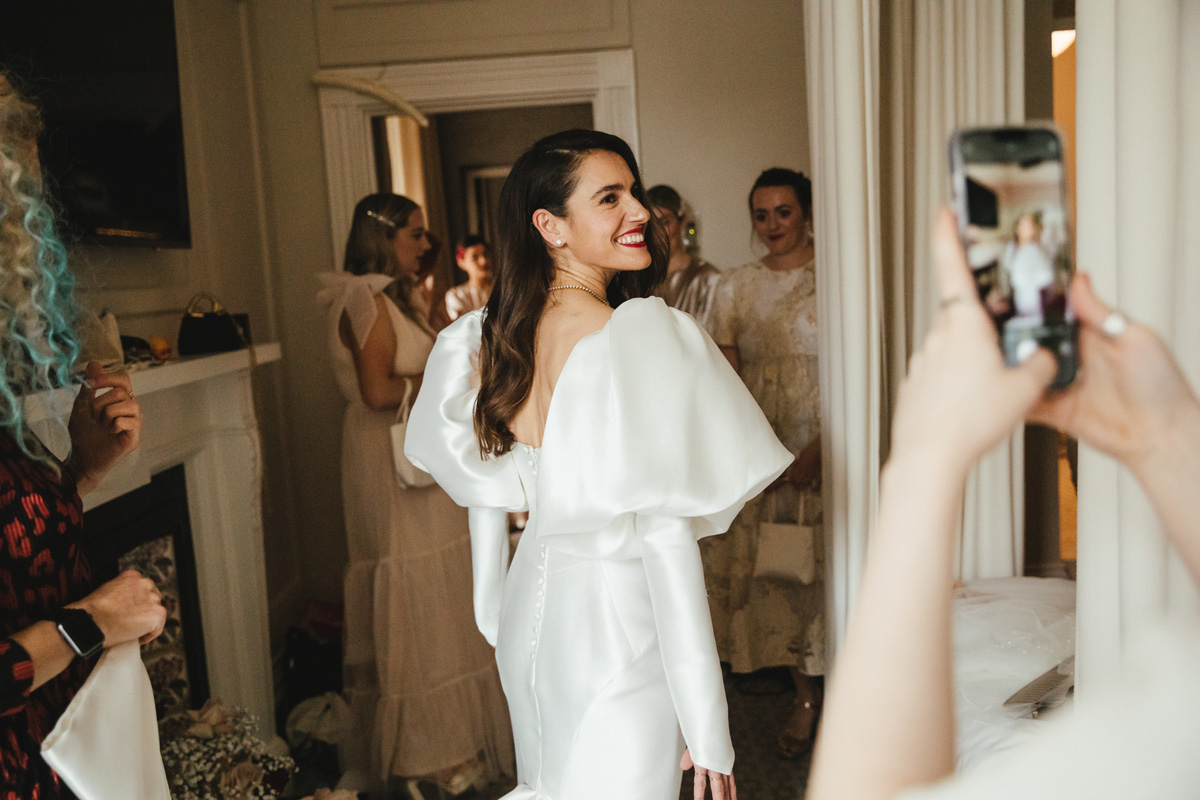 For the church ceremony, Lara wore a cathedral-length veil, hand-stitched with pearls by Meb at Mirror Mirror London.
"When we arrived back at the hotel, I changed to a shorter veil so it was easier to dance. Classically inspired, I liked the idea of a Priscilla Presley-type effect."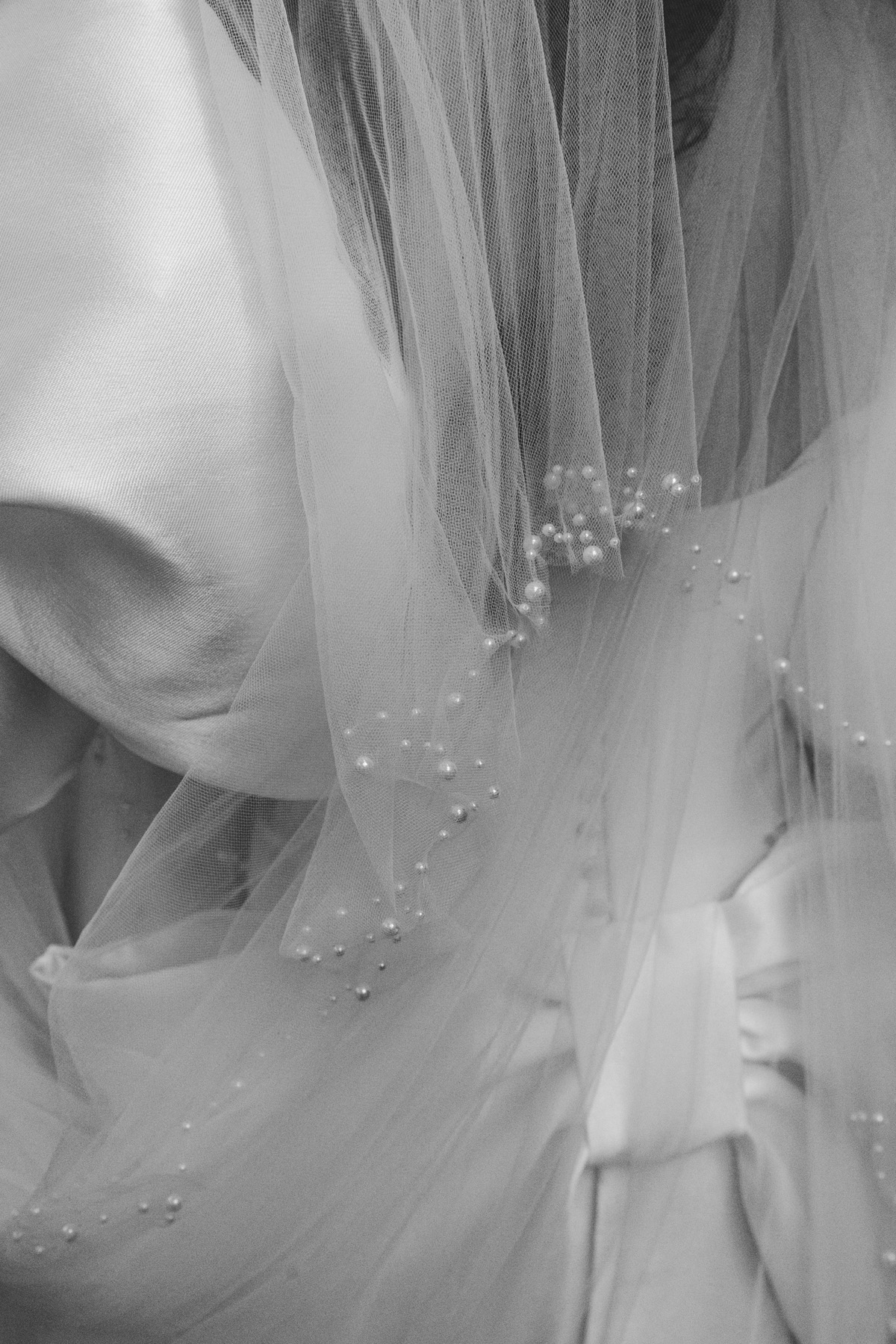 Lara had glittery Michael Kors platforms and wore some special pieces of jewellery.
"As a stylist and also being slightly obsessed with weddings, wedding styling and all things jewellery-related, this was my favourite part. I had my pick of several earrings I started buying when we got engaged: Shrimps pearl and diamanté encrusted prawns; Completed Works pearl cuffs that my wonderful friend Jackie bought me as a wedding gift; bespoke, initialled, pearl droplets that one of my bridesmaids Anousha and her partner Ryan gifted me; and my bridesmaids bought me gold and pearl Alighieri hoops which I opened on the morning."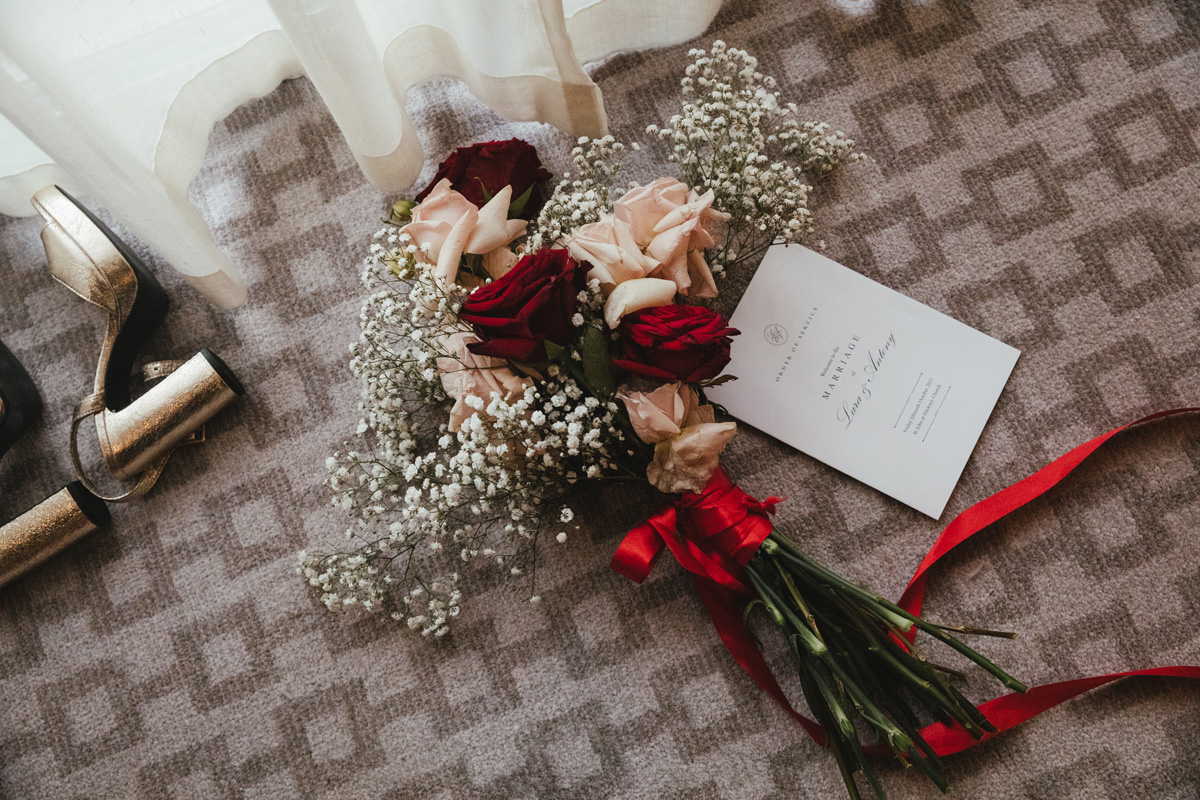 "After so many options, I actually wore a very special pair of diamond stud earrings that my aunt Amelia lent me the night before. She took them off and said I should wear them in the morning. To my massive surprise, just as we were finishing getting ready, my mum gifted me a diamond tennis bracelet from her and my dad."
"There were matching earrings which I changed into later so I could wear my auntie's earrings for the ceremony. My mum also lent me her diamond tennis necklace which was promptly returned before too much dancing."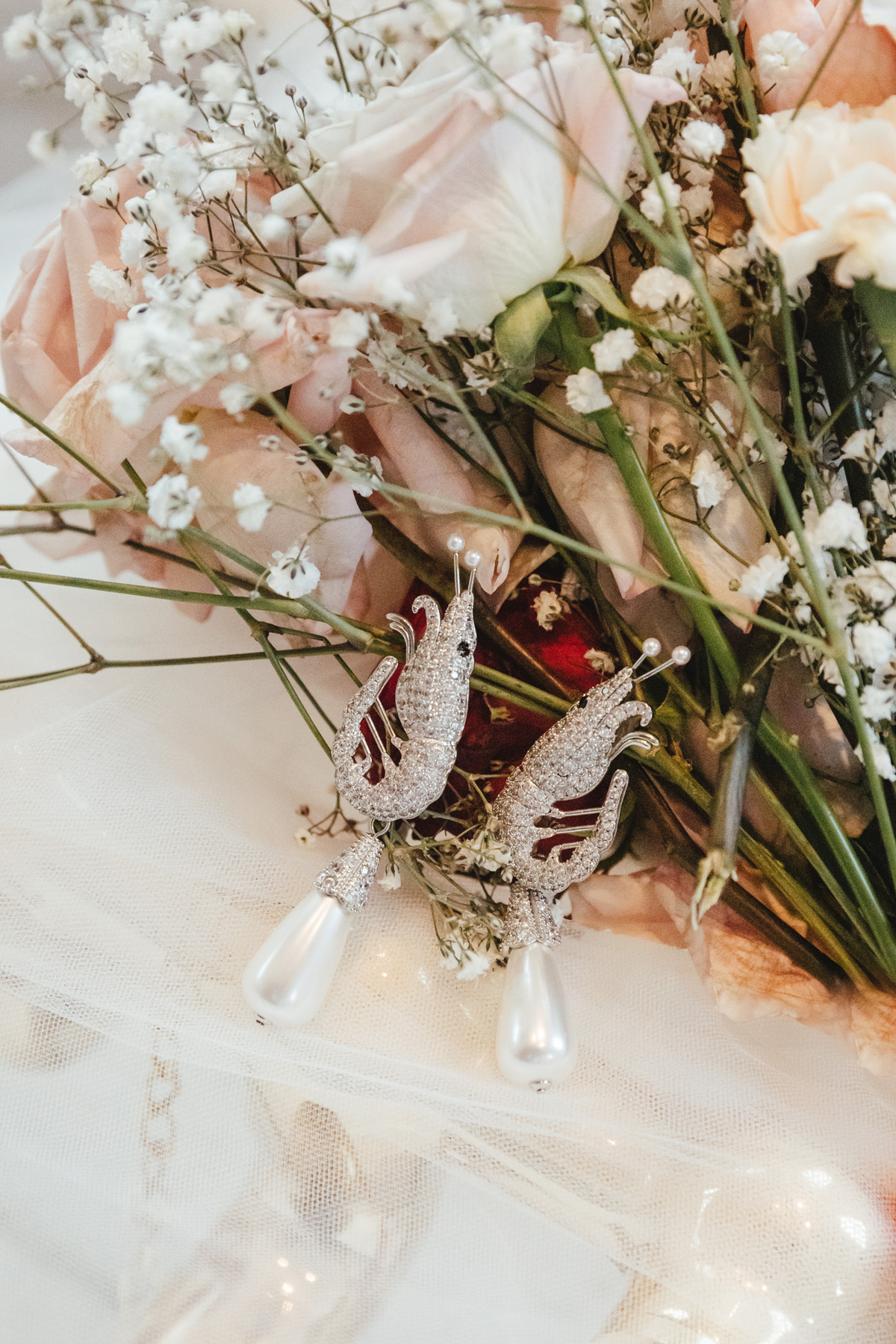 In line with her love of pearls, the bride wore a Simone Rocha pearl headband, a gift from her parents, and carried a bag from Shrimps.
"My wedding bag was a Christmas gift from Tony several years ago and is one of my prized possessions. The owner of the silk brand Hai, for whom I currently work, gifted me and my ten bridesmaids a little silk bag to wear. My girls had ivory and I chose red; my sister Nadine carried that for me."
"A part of the wedding that I still can't get over was the generosity and love from so many friends, new and old, who did everything they could to help us make our day even more special – from disco balls to wedding invites, to transporting things for my parents from Scotland."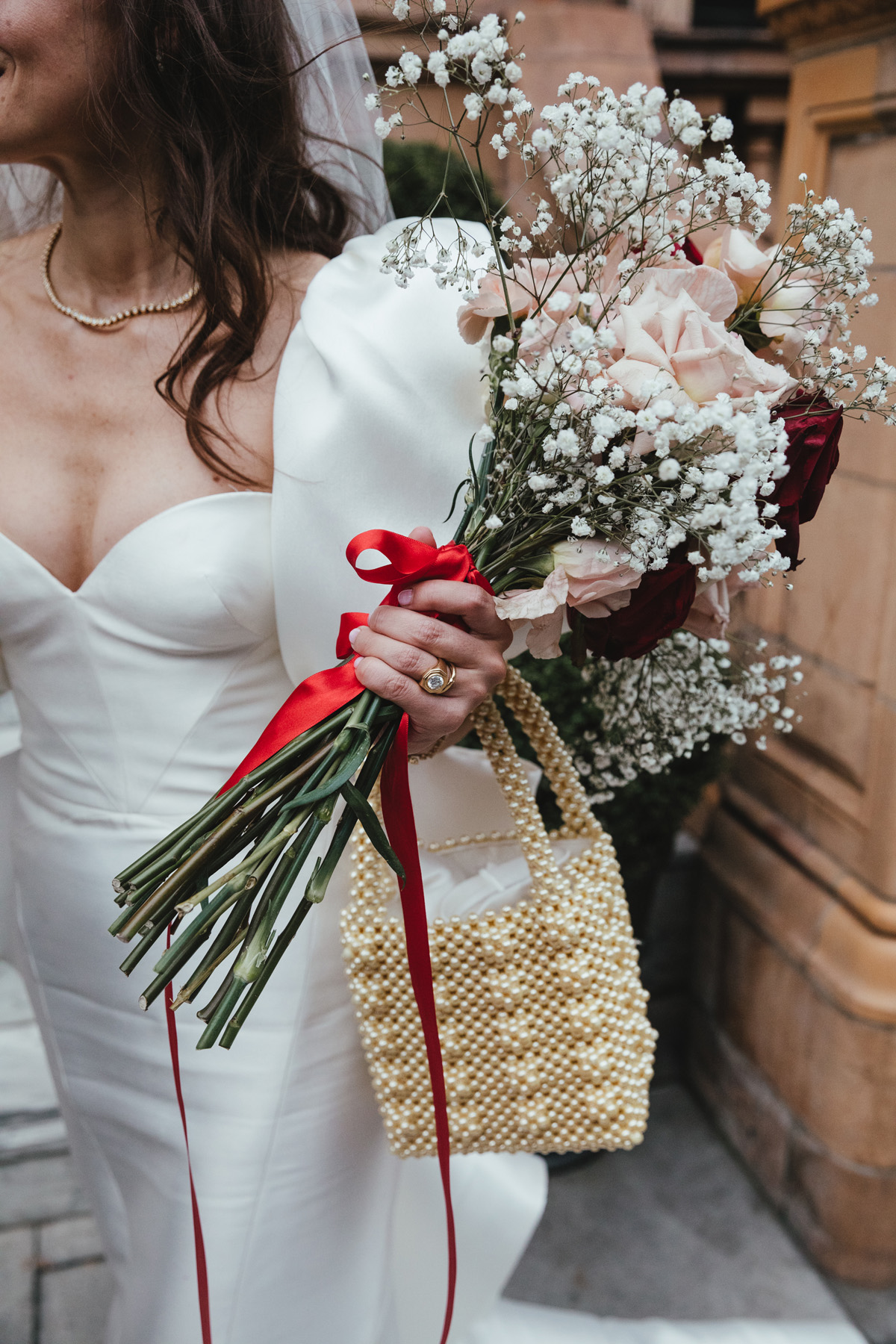 Flowers were key to the opulent and luxe vibe, put together expertly by florist Christy.
"Our florist was an absolute dream and I cannot speak highly enough of her and her assistant Mia. I had followed Christy on Instagram for a while and when I asked if she would possibly do weddings, she said she rarely did them but wanted to do ours."
"I always knew I wanted red roses – they are not your traditional wedding flowers but I don't think our wedding was that as Tony and I really wanted it to be a true representation of us. When we started our long-distance relationship, Tony had a rose tattooed on his thumb so he felt I was always with him – finally a man as emo as I! I adore carnations; they are so fluffy and feminine and speak a lot to my childhood as dad bought my mum these a lot. Christy specialises in carnations and when I showed her which images of her previous work I liked, these stood out."
"We decided on ivory and pale pink roses and carnations, mixed with gypsophila and roses for my bouquet. I had always loved the thought of orchids in my bouquet and Christie made it come to life. When she handed me my bouquet, I was speechless; I had never seen such beautiful roses."
"I remember sitting in the taxi en route to the church, butterflies in my stomach, knowing I was about to see Tony and the rest of our friends and family, the sun had come out and I was sitting next to my mad and nephew Hunter, my sisters were in the jump seats in front of me and I looked at my flowers and felt like I was in a dream."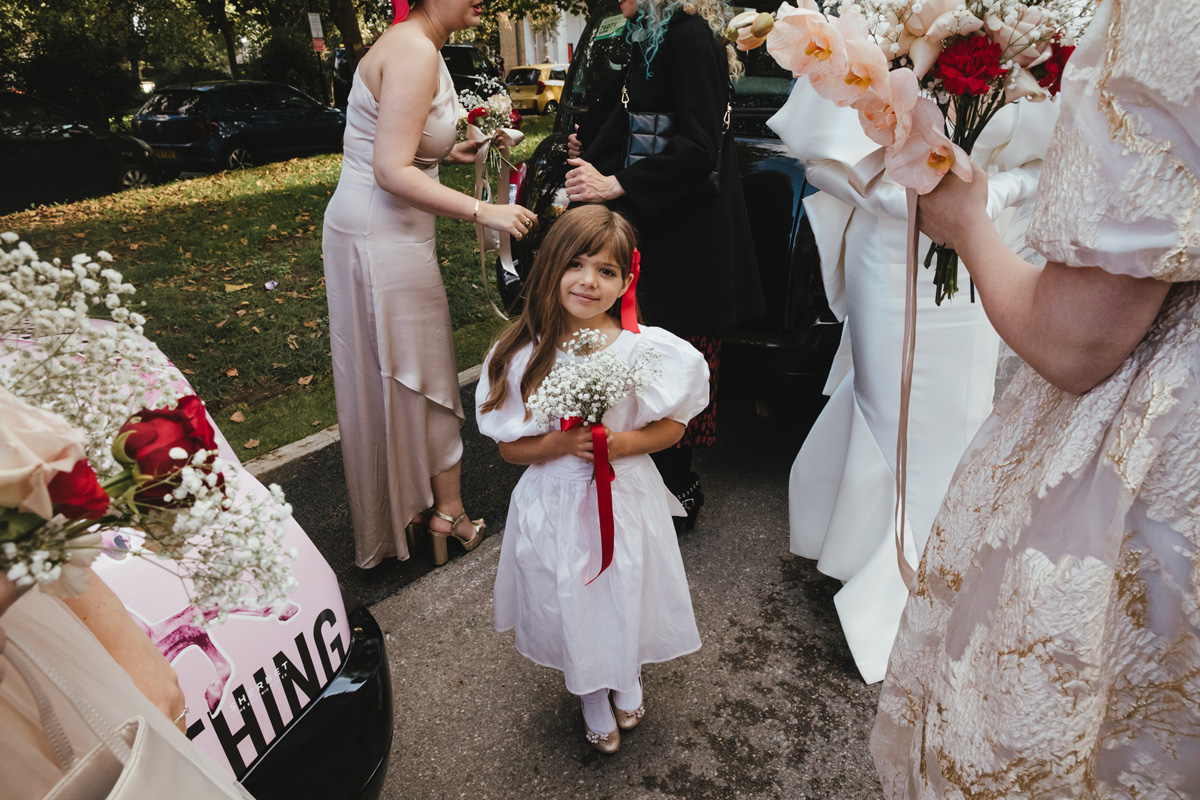 "Christy and I met a few times and she knew the exact theme that we wanted. Our flowers were perfection and I can't thank her enough."
"She helped me source candles and candleholders to give us a dreamy romantic feel and tied bows in red around the candelabras on the tables. Our wedding wouldn't have been what it was without her."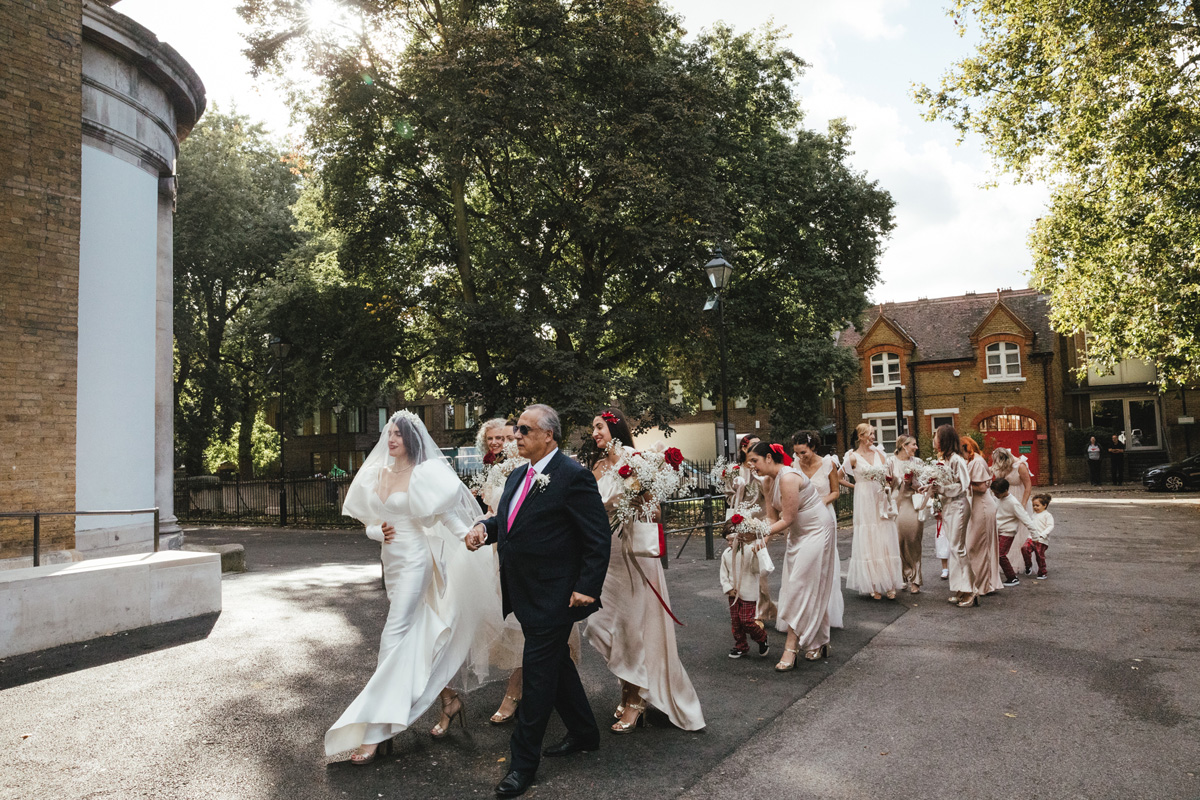 The bride and her father travelled to St John at Hackney church in a taxi before walking down the aisle to meet Tony.
"Louise, my maid of honour and best friend since meeting at ballet school at 16, helped me create a playlist of our favourite classical music as guests entered the church. I am so, so grateful for her and everything she did for me, as well as having a new baby."
The service was led by the Reverend Al Gordon and his team.
"It is a very special place and one we walked to a lot during lockdown. He made our wedding day; he kept us calm, cried with us and made us laugh. The ceremony and later on, the speeches, were by far the highlights of my day and also so important in my eyes. I had always wanted to be married in a church; I knew it meant a lot for my parents and would have done for my beloved grandparents who are sadly no longer with us."
"The Reverend Al was incredibly helpful in the planning for our order of service as he suggested a hymn upon arrival as we would be emotional and nervous."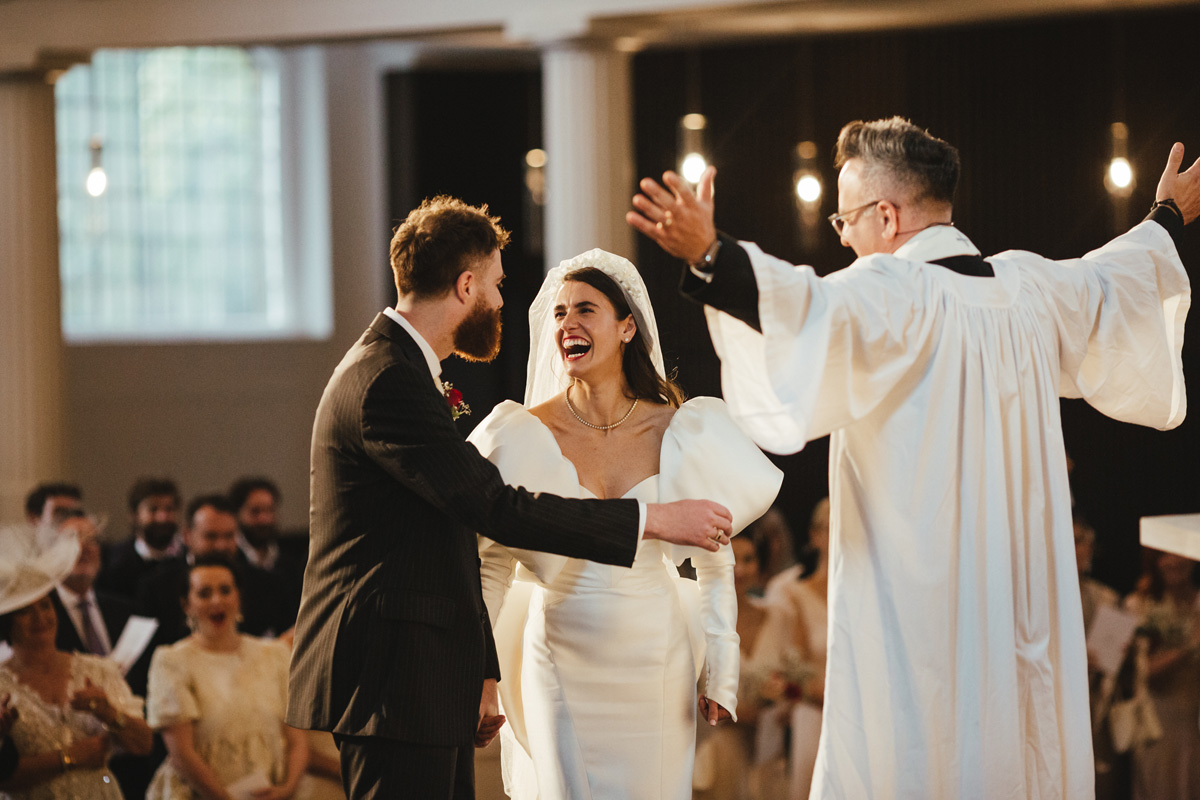 "We chose 'All Things Bright And Beautiful' for my gran. Al then married us to the traditional wedding vows. This was very important to me as I have always wanted this to be the way in which I and we got married."
"We sang two more hymns and Al's colleague read a reading from the 'Song of Solomon.'"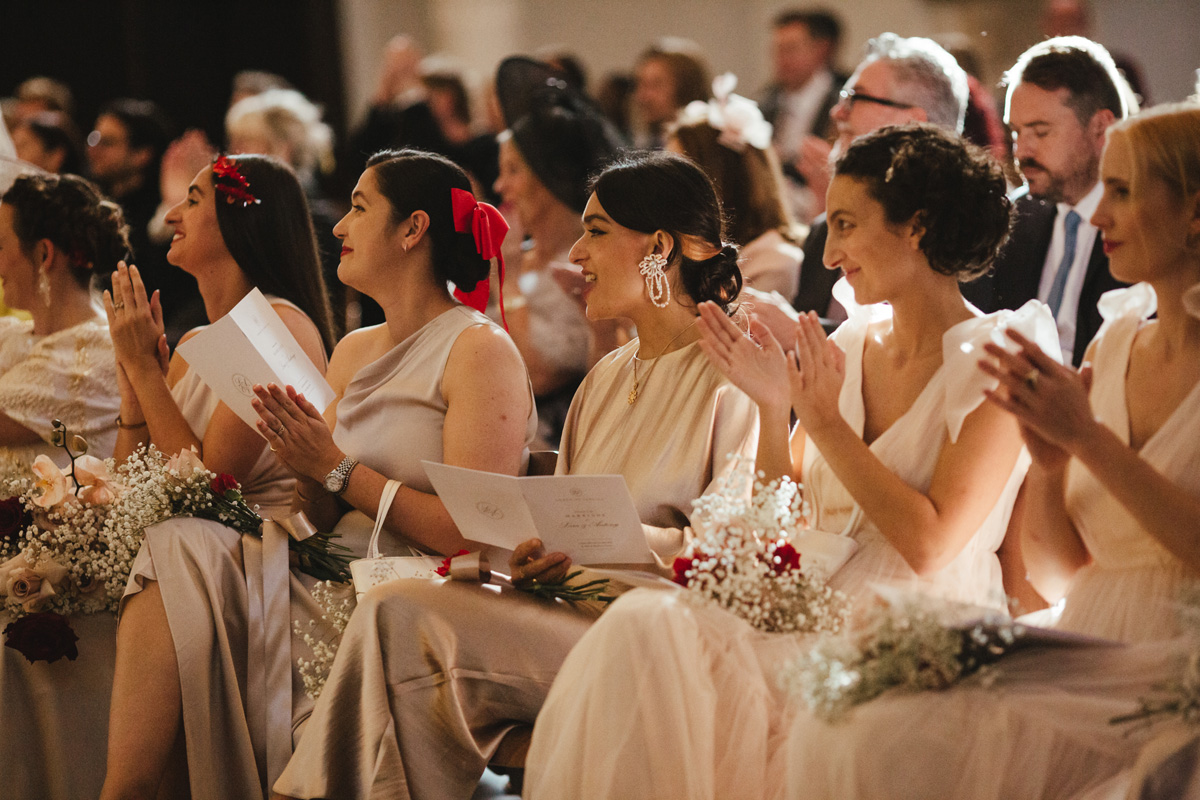 "We included readings to one another which were not spoken but were written in the order of service. We knew that we would cry too much but wanted them to be part of the day. From me to Antony was 'Sonnet XVII' by Pablo Neruda and Antony's to me was 'I Carry Your Heart' by EE. Cummings."
The maid of honour, Louise, read 'A Red Red Rose' by Robert Burns and Lara's sister-in-law Carrie read an excerpt from'The Prophet' by Khalil Gibran.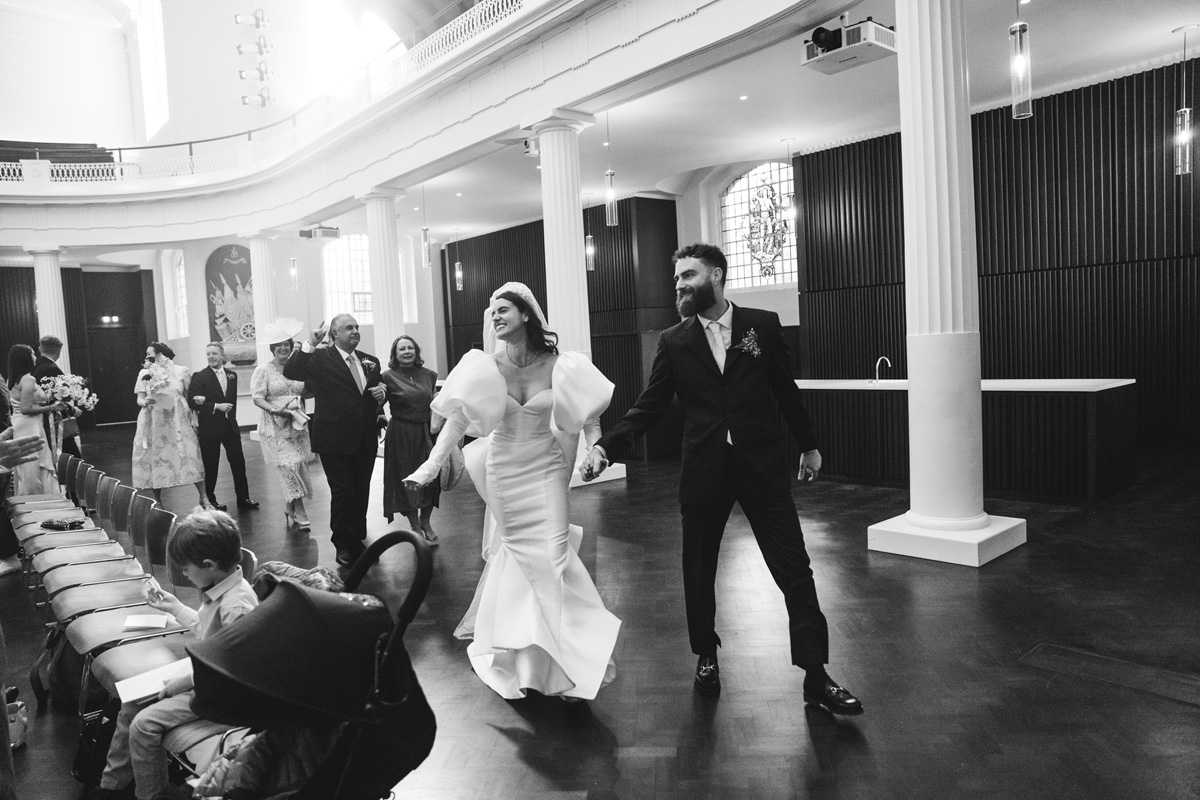 "They were both exceptional and we were so proud. We chose them as we wanted both parts of my heritage included. Tony knew how important readings and having something tangible on paper to keep meant to me."
Lara and Tony exchanged rings bought in London.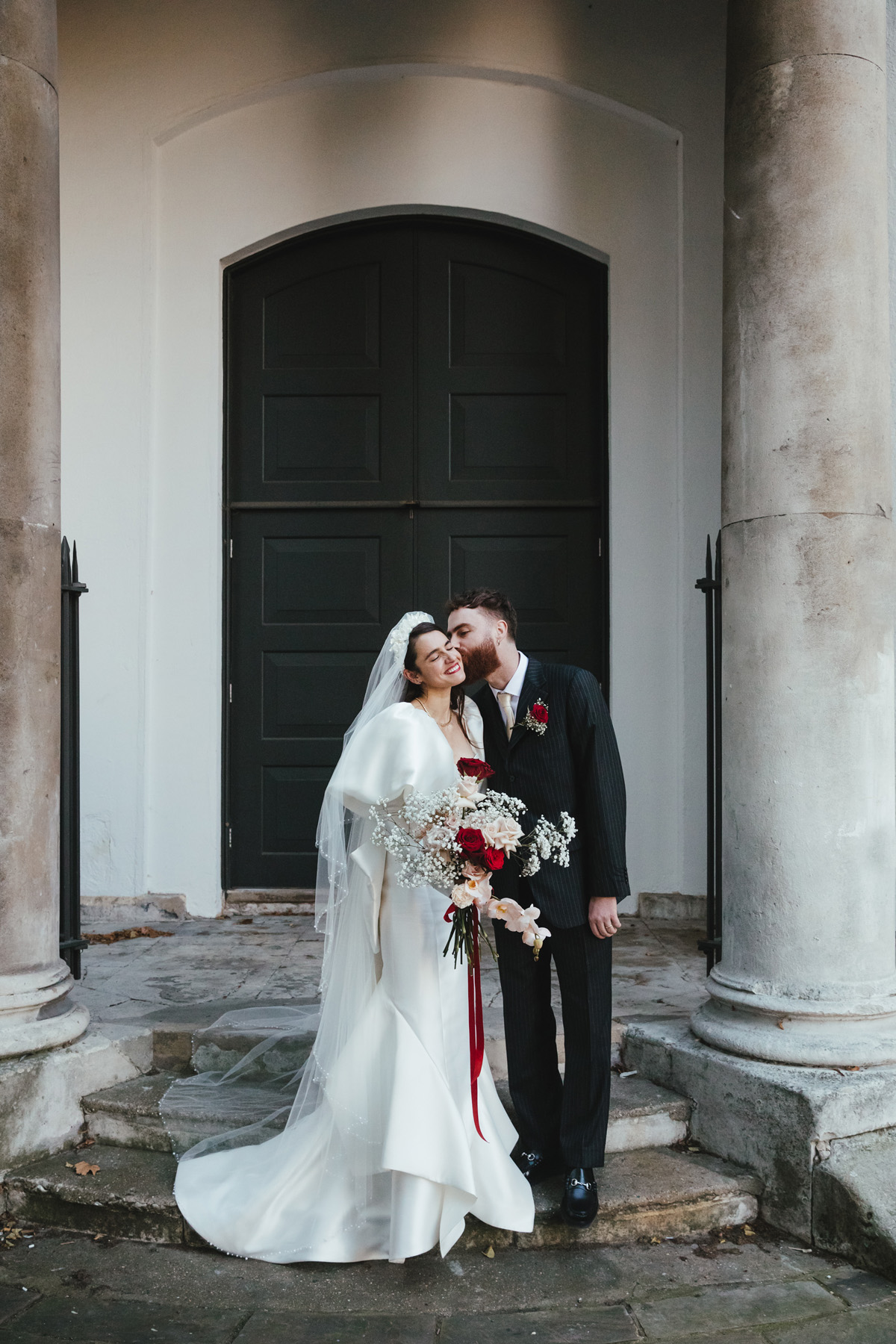 "We had completely run out of budget by the week prior to the wedding! Antony bought his gold band at our favourite Roman Road jeweller and I bought mine on a whim in Richmond. It is still far too large but I can't bear to take it off yet."
Whilst the couple signed the register, 'Sea of Love' by Cat Power was played for the couple's grandparents."
"As they left the church, they chose 'I Wanna Give You Devotion' by Nomad.
"It's an old-school rave tune to get the wedding started. I could watch the video of the bridal party walking down the aisle every day. The joy on everyone's faces is just epic."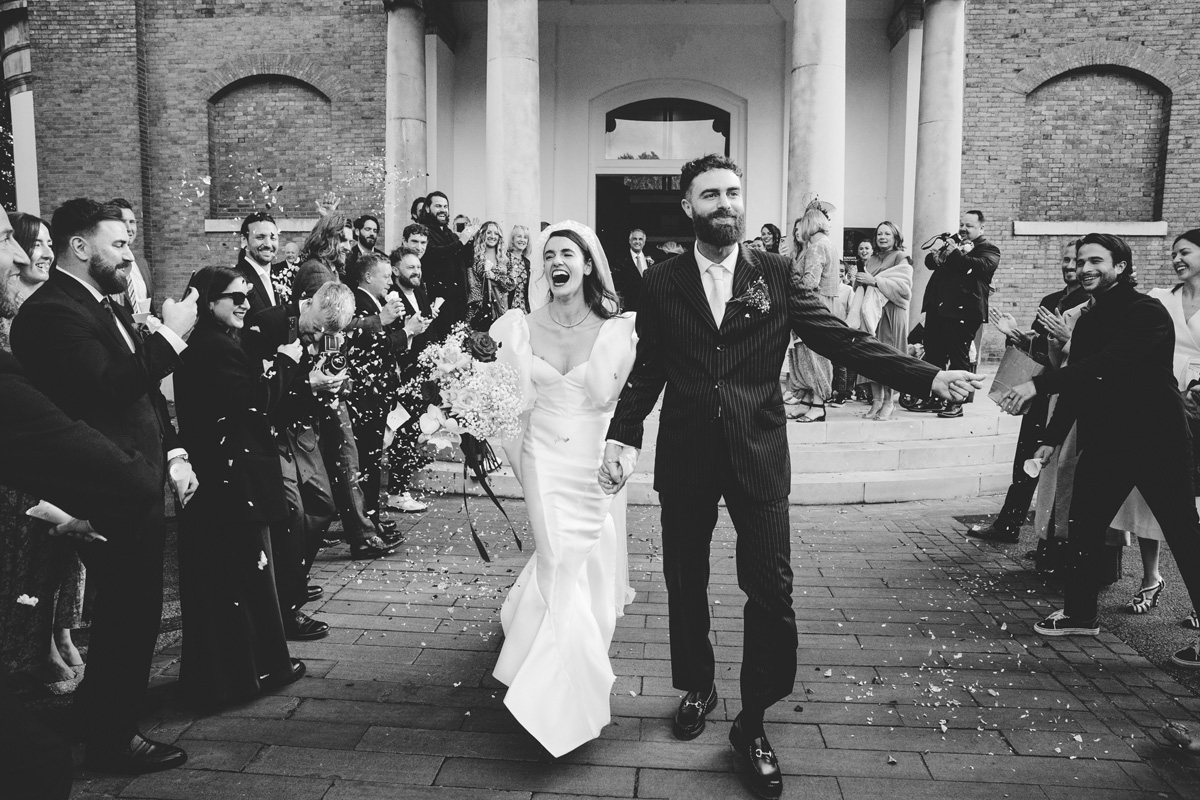 The bride was accompanied by ten bridesmaids, all in gowns in a neutral and gold palette.
"I didn't want them all in the same dress so my mum and I bought a selection that were available at ASOS and hoped for the best. As a stylist, I secretly loved this part anyway."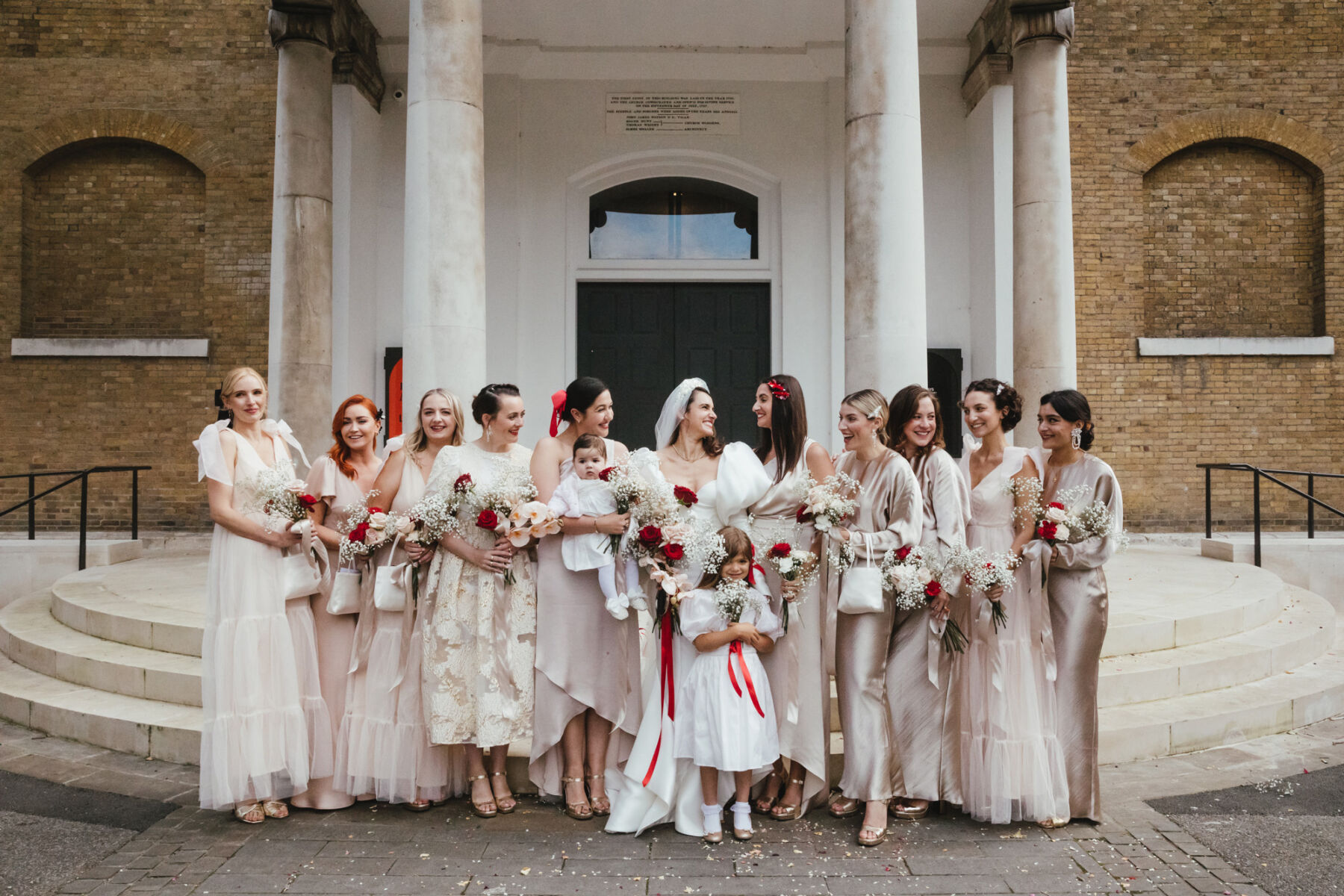 "Four of my bridesmaids had had babies or were expecting and I wanted them to be comfortable; the day was also about them and how special they are to me. I had their outfits in my mind for so long that I saw them finally come together it was quite overwhelming."
I thought they looked incredible and I was so proud of them all. My maid of honour Louise wore a Cecile Bahnsen-esque dress as I wanted her to stand out. When I see Matilda's images of her against the gold of the church saying her reading, I still tear up."
"Originally they were all to be in accessories from Simone Rocha for H&M, but the collection sold out so quickly we only managed to get a few accessories, thanks to bridesmaids online in Dubai and London from 6am. Months later, my very close friend Anna Brewster who was filming in Uruguay, casually asked if I wanted anything from the collection as the stores had a lot."
I cried with happiness and she bought half the shop. The accessories were part of the girls' gifts and I am still wondering how I will ever pay Anna back for her kindness.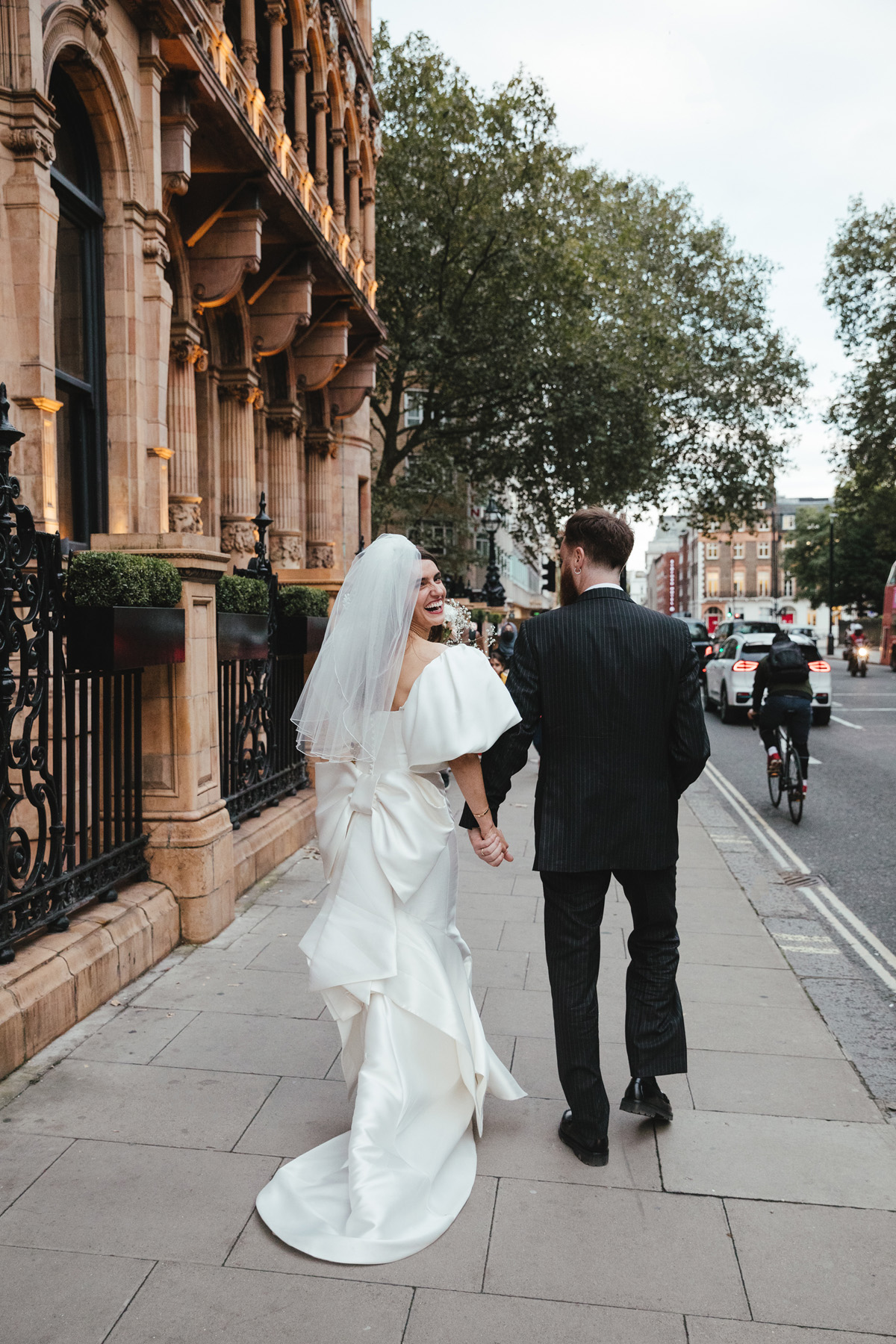 Tony looked dapper in a vintage 90s, Italian, black pinstripe suit from Nordic Poetry in Shoreditch.
"We couldn't find the right shirt as I wanted him to wear ruffles. He settled on a previously-worn M&S tuxedo shirt which worked perfectly. His shoes were from G.H. Bass, purchased from Matches Fashion."
"Tony wore a rose in his top pocket and a different tie from his groomsmen. His best man, Peter Carter, gifted him cufflinks with the Scottish flag on them as a nod to my homeland. My dad gave him a much-loved Omega watch from Beirut that my brother-in-law had found when looking through his large collection. He represented both of my families' heritage."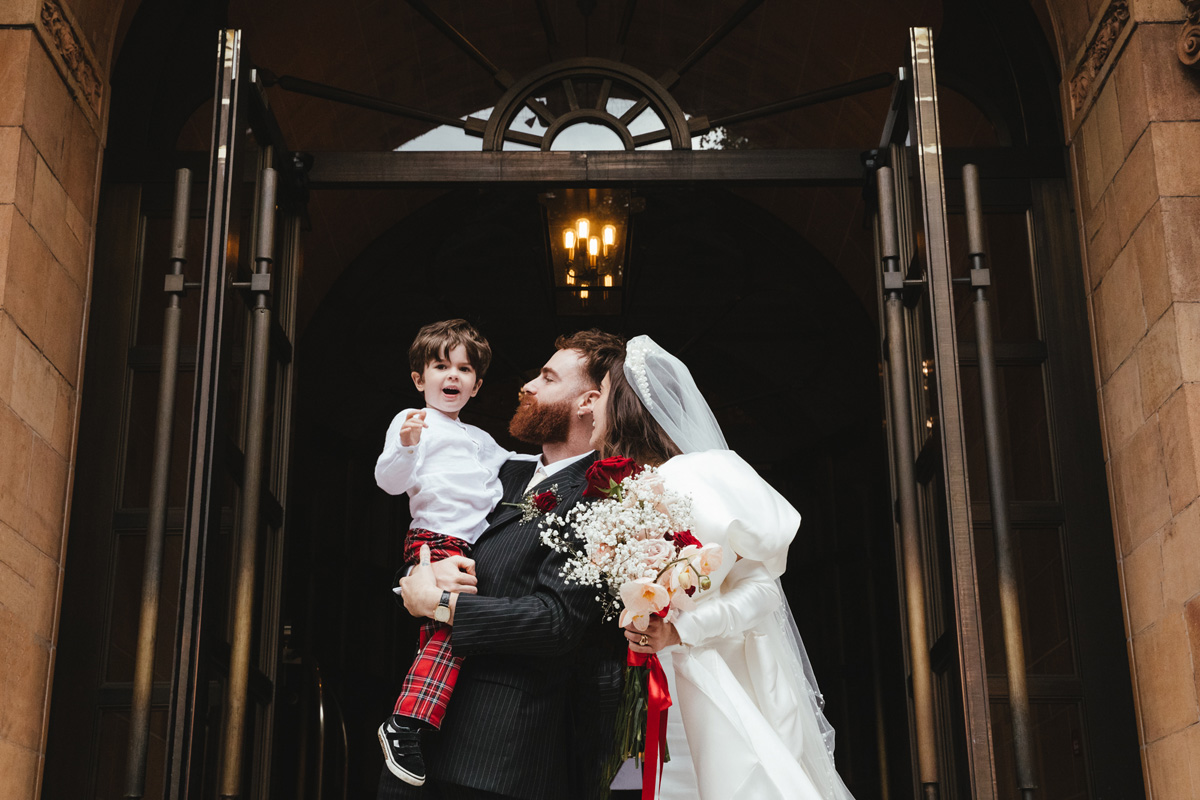 After the service, the newly-weds piled out of the church for some incredible portrait shots before heading to the Kimpton Fitzroy in a London Routemaster bus.
We have the fantastic Matilda Delves Photography to thank for these beautiful photographs, which combine a modern edge with romance and pure joy.
"I found the wonderful Matilda Delves a month before our wedding."
"I barely noticed her on the day as she was so professional. I would highly recommend her; our stunning pictures speak for themselves."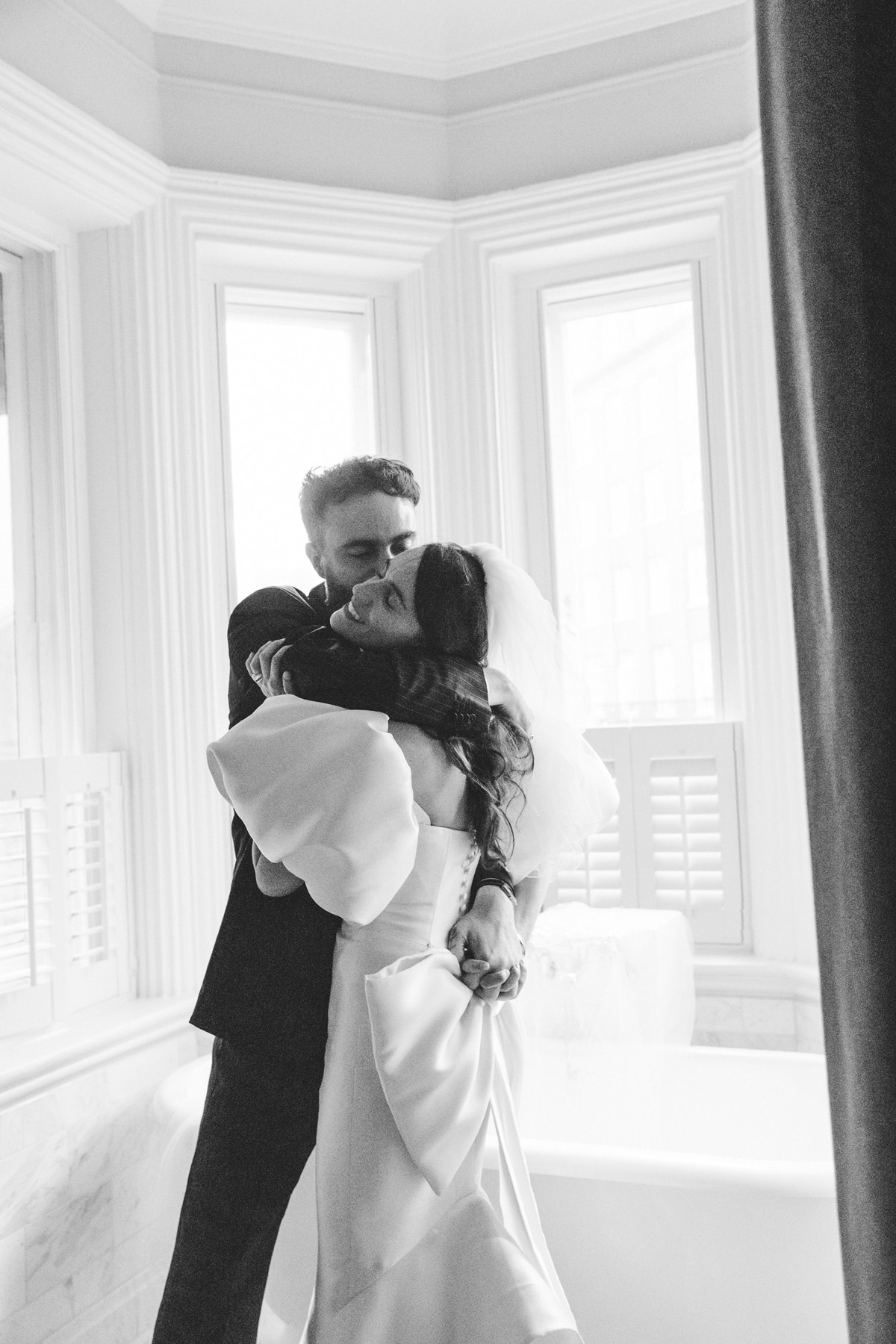 Tony and Lara met in Dubai in October, where the bride was living at the time.
"Tony was at a work conference and was meeting my sister who he knew. I joined and the rest is history. We spent the next year in a long-distance relationship and Tony moved to Dubai the following year, in November 2016."
"We moved to London in Spring 2019 and Tony proposed in our studio in Bow on 24 March 2020, two days after the first lockdown began. We didn't see anyone properly for three months but we will always cherish the time we had to celebrate privately with one another. Tony proposed exactly a year later, two days before my birthday, with our beautiful ring. Alas, we were still in lockdown, but celebrated outdoors with friends that we could see a few days later."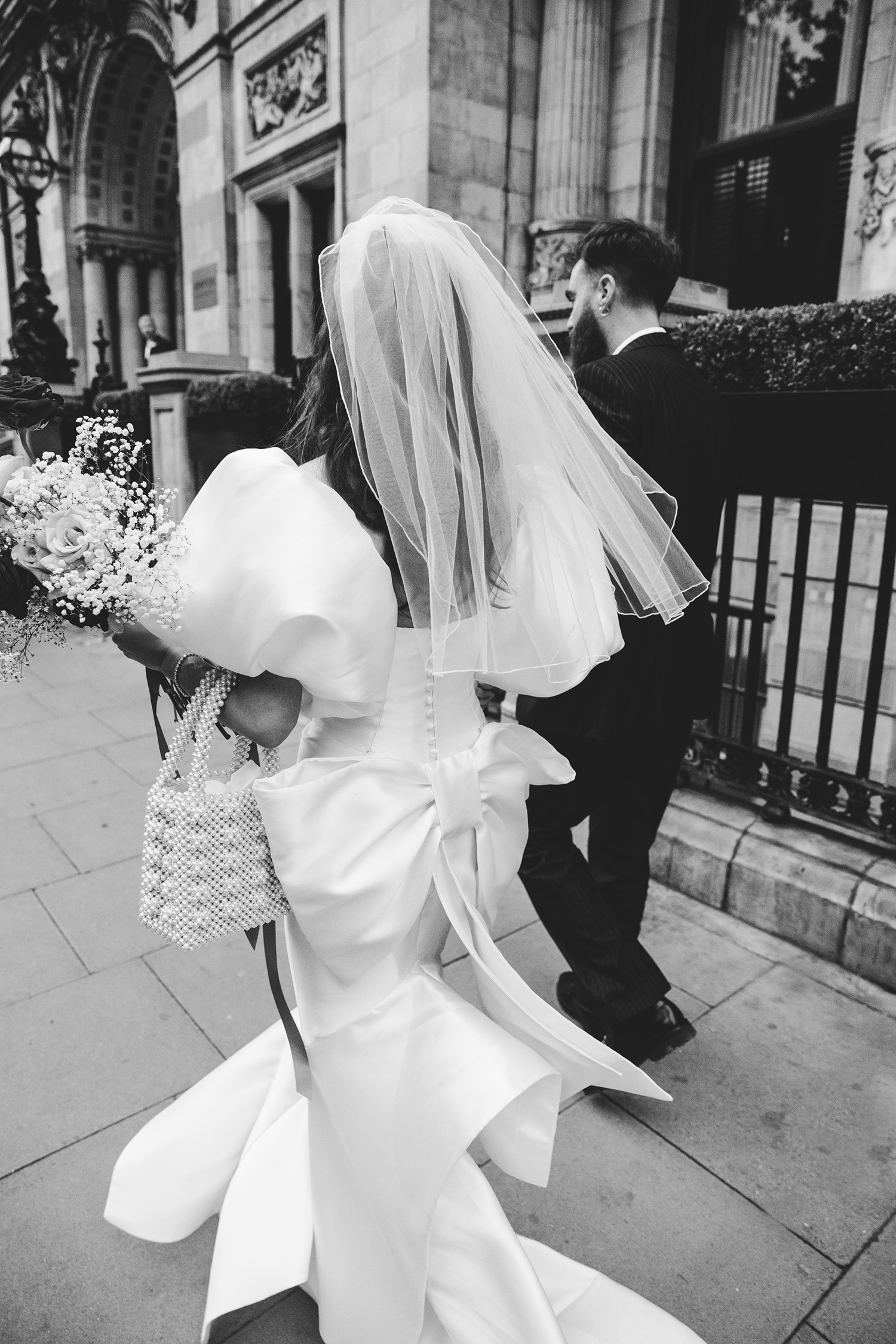 Like many couples, Lara and Tony's celebrations were impacted by the Covid-19 pandemic and its restrictions.
"We had booked a civil marriage ceremony for 12 February 2021. This was, of course, cancelled as were deep in the second lockdown. I put on my charity shop veil and we walked to Angel Underground – a place very special to us and where we fell in love."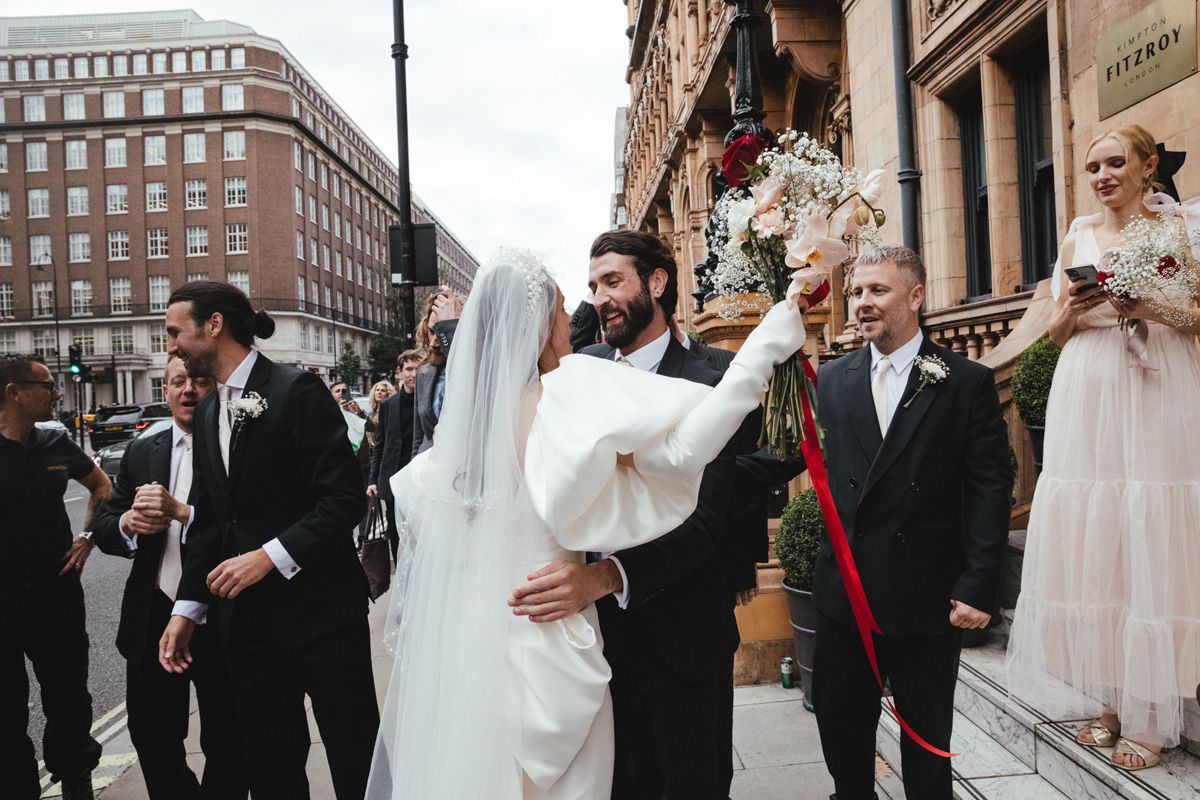 "Covid massively impacted our day. We couldn't book things for fear of them bring cancelled and our wedding reception venue within the hotel changed dramatically three weeks before the wedding."
"Most importantly, my family were in Dubai and the States which had separate Covid restrictions."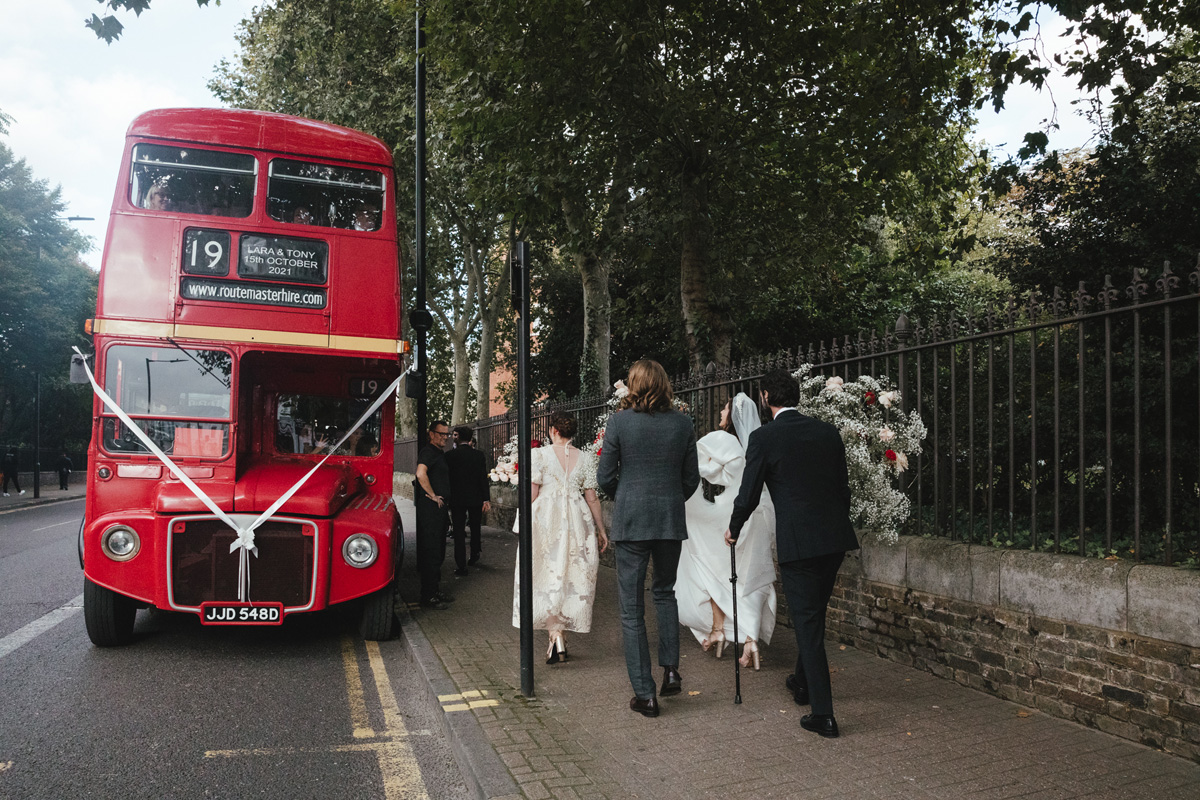 "This meant several close friends and family couldn't attend our day, something we were devastated about. A friend of my mother's gave me a very good piece of advice; she said that these people were all there with us in spirit and on the day only Tony and I mattered. She was absolutely right."
"I couldn't relax until I knew that my immediate family, living in Dubai, would be able to travel. My sister and brother-in-law and a lot of friends planned to do 'test to release' in order to celebrate with us. Once we knew they could fly, we booked most things in just two months, apart from the church."
"The most wonderful woman, Bear Brooksbank, designed our engagement ring. I cannot speak highly enough of Bear; she is the most incredible woman and I will treasure our experience forever."
"I only met her once before we received our ring and all our contact for almost a year was done on FaceTime or Whatsapp.  She even sent a mould in the post a month before completion as were stuck in yet another lockdown."
"I remember the day Tony picked up the ring before he proposed for the second time. The smile in his voice said it all and I knew he was more than happy with the end result."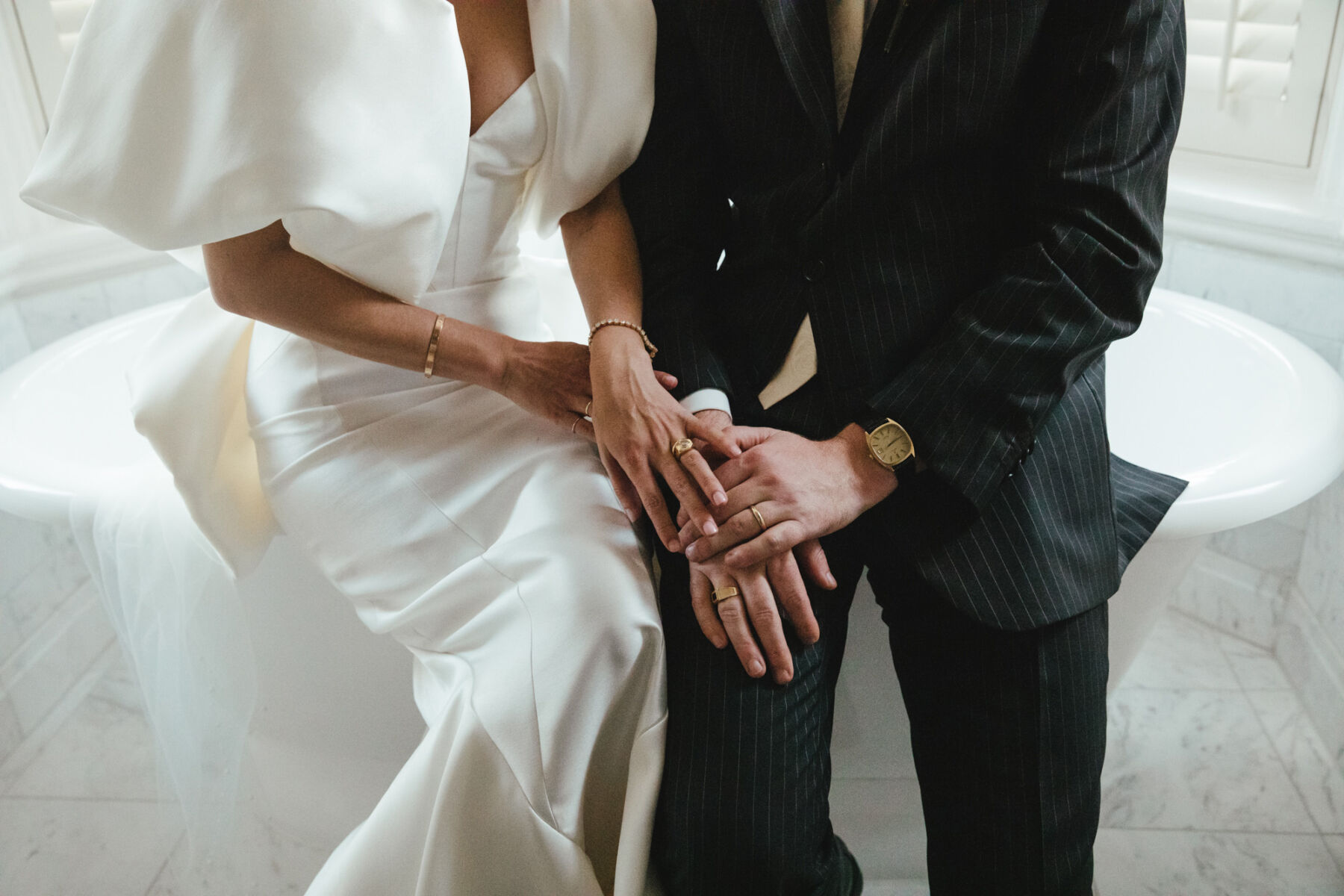 The Kimpton Fitzroy is such an opulent venue as it is, but with the addition of Middle Eastern influences and oyster shells, it became romantic, sumptuous and magical.
"We had visited Kimpton Fitzroy the Christmas before lockdown and fell in love with Neptune (its dining room). We live in London and knew logistically it would be easy, for us to plan and also for our guests. Ironically, nothing is easy to plan during a pandemic, as we all now know. I had also stayed there almost 18 years ago with my mother when auditioning for dance college in London."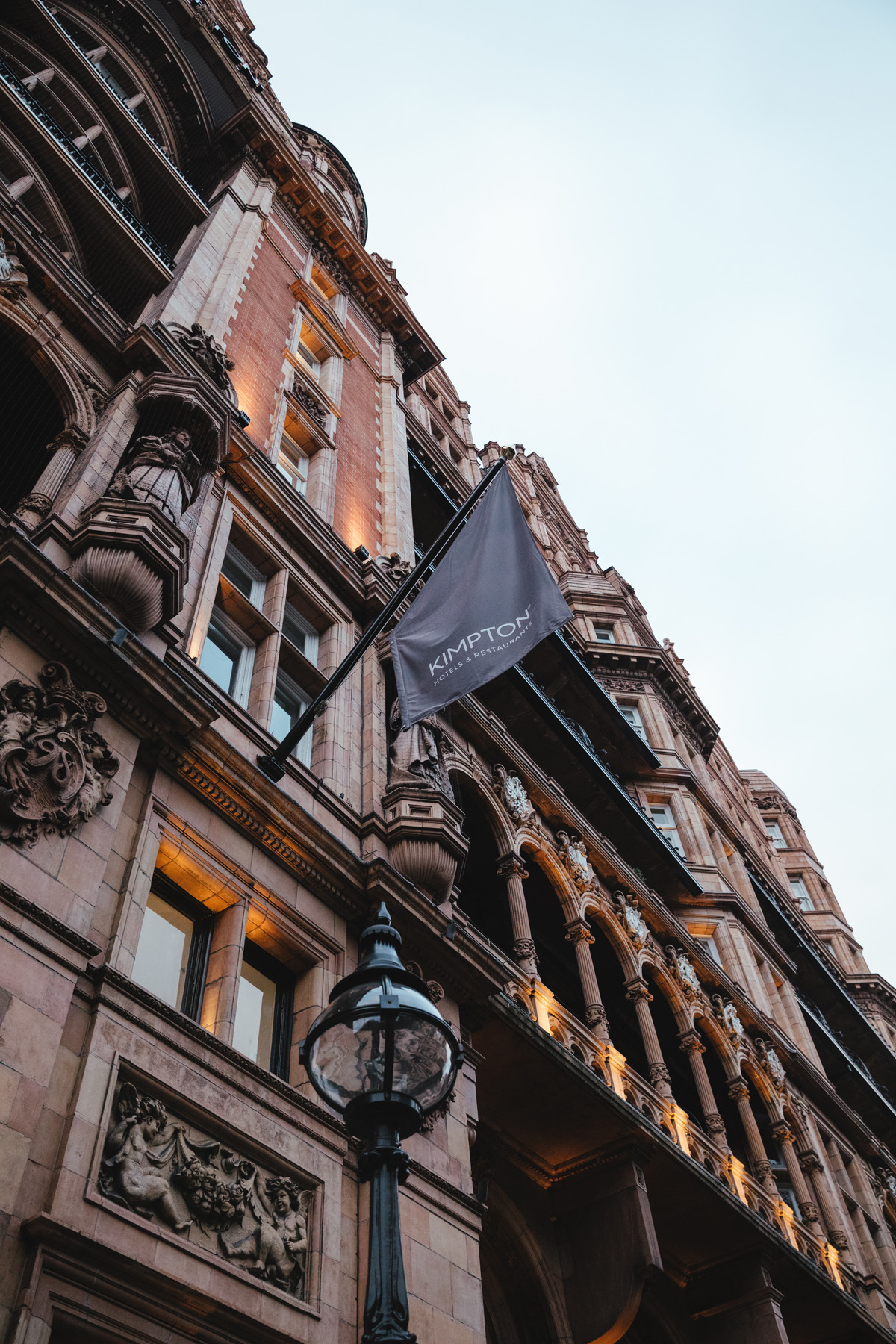 "Since Tony and I met, we have collected pretty much every oyster shell we have eaten from all over the world, to the point where I was banned from keeping any more."
"It was my dream to have them as place settings and whilst I knew it would be a lot of work, I wanted to make it happen. These oysters have travelled all over the world and were finally housed in storage when we moved back from Dubai."
"One of my bridesmaids, Dewi, and her husband amazingly found the right kind of gold paint, brushes and plastic floor protection and we started the long job of painting and drying."
"This was continued with both my sisters and sister-in-law Ellie right up until the night before the wedding. Every time I travelled home to Largs and visited Finns, the owner would have kept the giant oyster shells for me which were cleaned and ready to bring back down to London to be stored."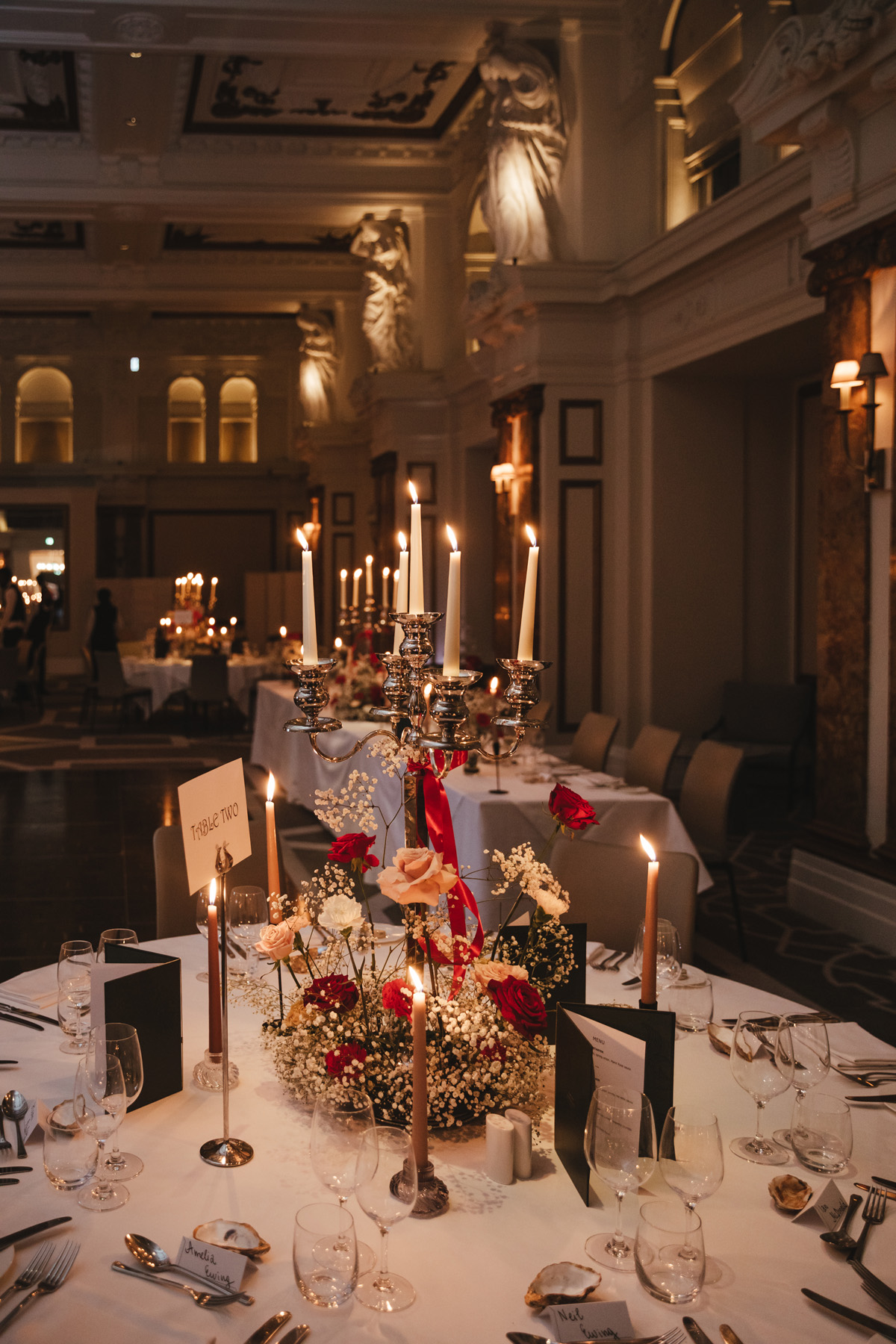 "Traditional Lebanese silk scarves were placed on each chair. When the debke/zaffe band entered to introduce the bride and groom, our guests were instructed to wave their scarves as part of the celebration."
"These were gifted from a family friend in Dubai and although I had really wanted ivory, the colours worked brilliantly."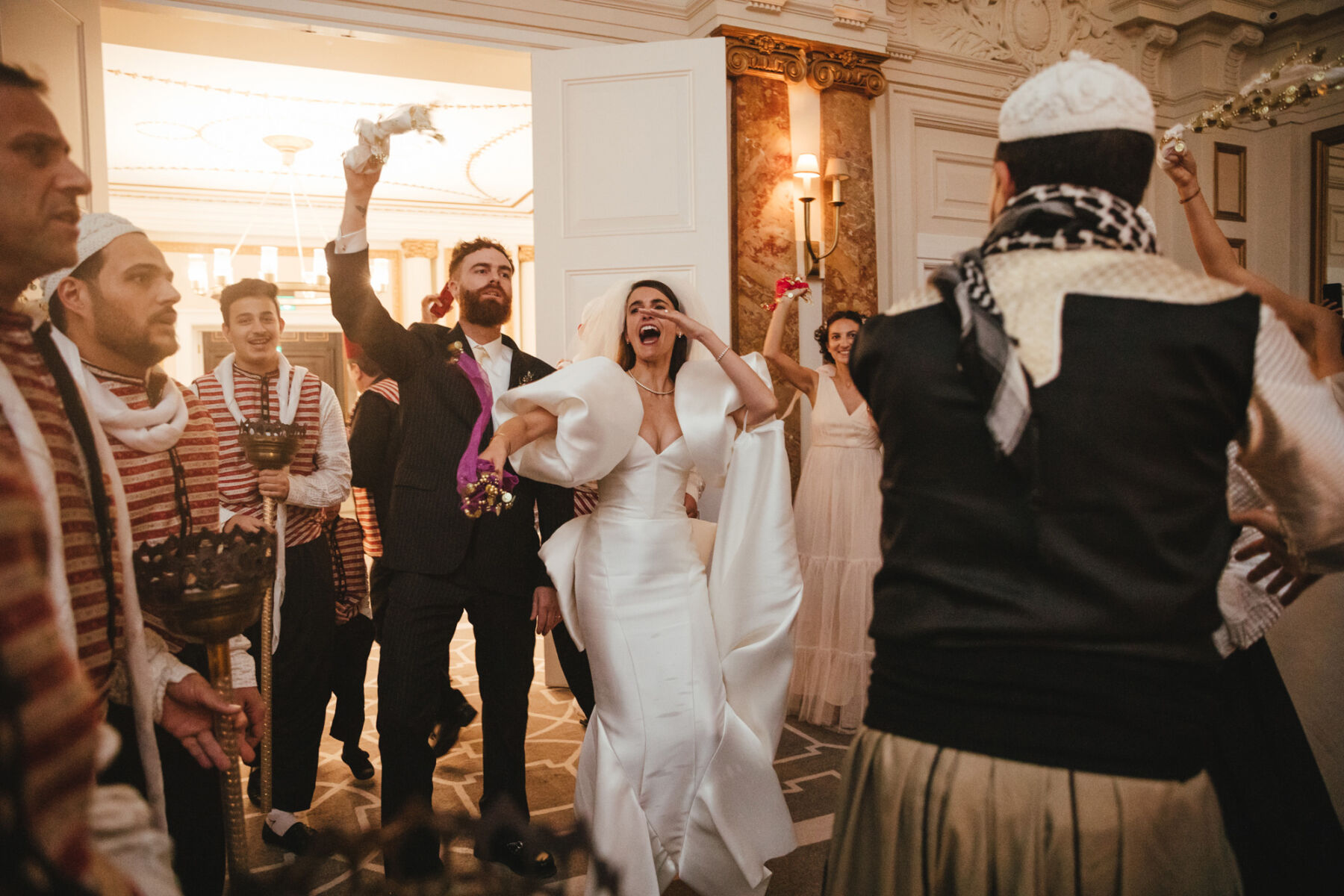 "My maid of honour's partner Hayden Kays designed our save the date which we sent to our guests digitally. It was in his classic type effect and had a hand-drawn picture of a rose, which was a real honour to have and keep."
The couple have some special moments from their day to share.
Lara: 'There are so many amazing moments, it's hard to pinpoint. It was the happiest I have ever been and the most incredible day. I think the service was unforgettable and I will never forget the speeches during dinner – the men in my life outdid themselves. Looking back and seeing my incredible girls, nephews and nieces behind me before I entered the church was something I will never forget. I was so proud that my heritage was such a large part of the entertainment. Since I was a little girl and attended so many Lebanese weddings, I knew this was something important to not only myself, but Tony too.
Tony: "The service. I also loved welcoming our friends and family, some of whom we hadn't seen for over two years. And the dancing!"
To get the party started, the couple headed on to the dance-floor with a last-minute choice of first dance.
"Our first dance was originally Sade's 'By Your Side' and Cigarettes After Sex's 'Nothing's Gonna Hurt You Baby'/'Apocalypse'. However, the morning before the wedding, Tony jumped out of bed and said we had to change it so we had 'Could Heaven Ever Be Like This' by Idris Muhammad. It was more uplifting and got everyone on the dance-floor."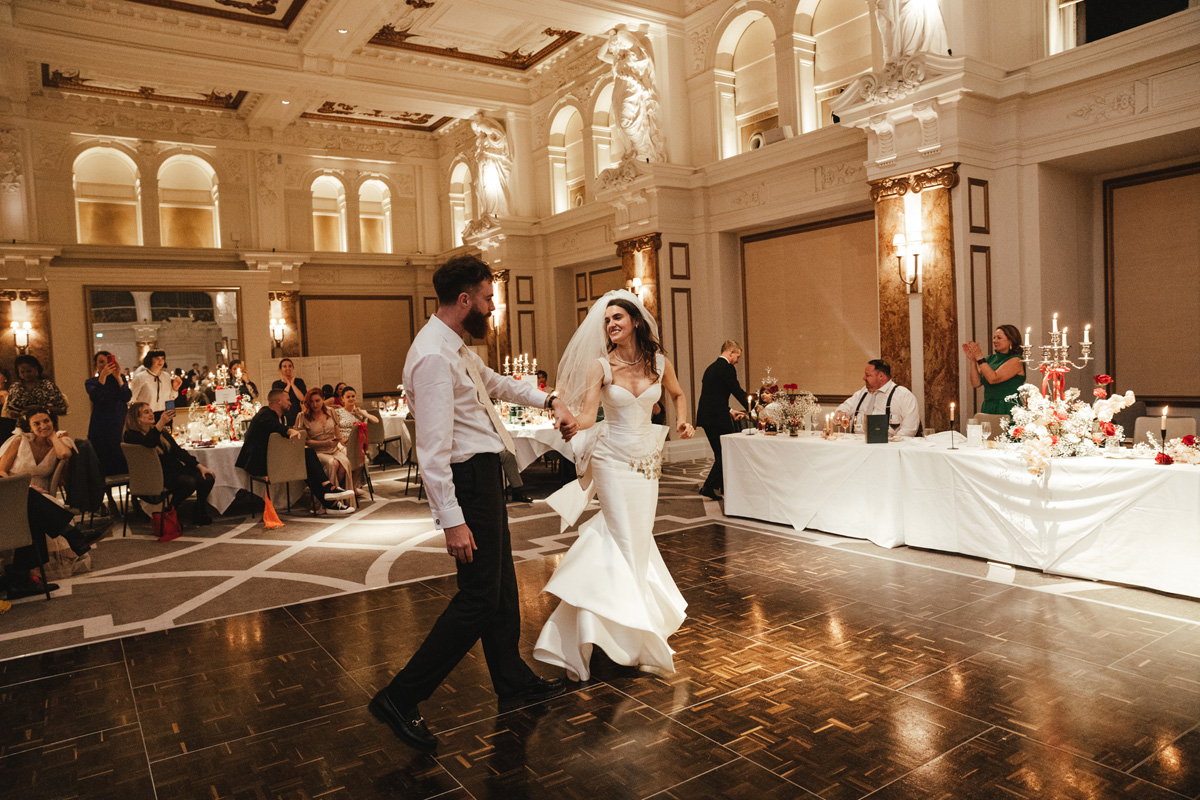 As well as a photo booth, there were traditional Middle Eastern elements to the evening's entertainment as well as a set from Radio 1 presenter Arielle Free, who was also a bridesmaid.
"One of my best friends and her partner George Pritchard played, which was such an honour."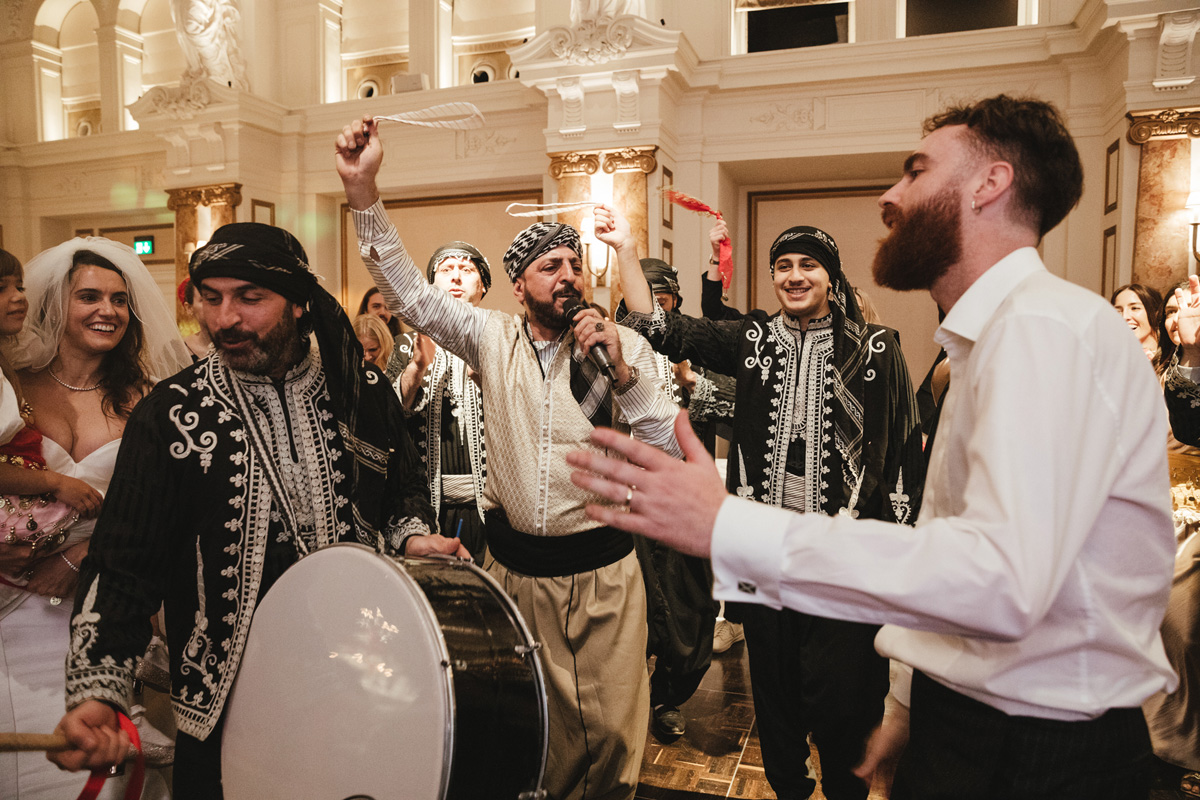 "From the minute we got engaged, we knew there was no one else we'd rather have and they both changed their super-busy schedules to accommodate us. Antony and I worked on a playlist for two years. They didn't need it though and played everything we wanted to hear and more. We also had a Syrian/Lebanese Zaffe Dabke band."
"Karl at KT Entertainments provided all the sound and lighting, and a photo booth. He was brilliant. He made us an album of all our photo booth images and guests wrote in it, alongside their picture."
Words of Wedded Wisdom
"Don't sweat the small stuff. I remember thinking I would be so picky about everything but who really cares what colour your goblets are or how many plates you have? In the end, I really just wanted to get married and nothing else mattered."
"Reach out to friends and family. Ours were incredible. We also weren't made of money and found a way to look for cheaper alternatives. No one will ever know."
"Book a honeymoon. We booked ours two days after the wedding and although only five days, it was the best decision we made. A very good friend booked our flights, got us an upgrade at our hotel and even checked us in. Highly recommended."
Once you have picked your dress, stop looking. You have made your decision and you will look incredible in what you decide upon.
"Once you have picked your dress, stop looking. You have made your decision and you will look incredible in what you decide upon. There are so many options and beautiful Instagram pages that can make us doubt ourselves but be confident that when you see your groom or bride at the end of the aisle, they will just be so happy that you are there and ready to be married."
"One last thing is to plan your day properly. We worked out every hour of the day to make sure it went smoothly. A wedding is ultimately like a performance and planning is really part of the dress rehearsal."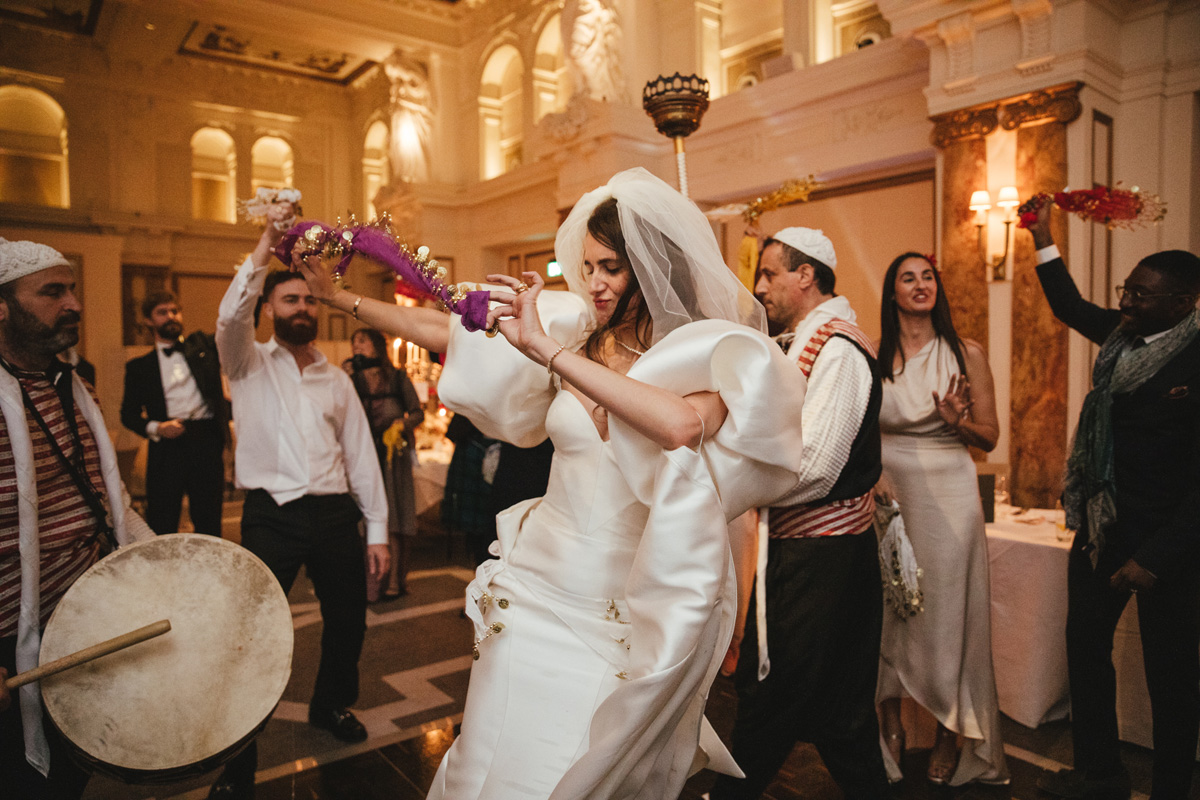 "Having said that, in the end, surrounded by your friends and family, nothing else really matters apart from enjoying it.  Your friends and family love you and want you to have the time of your lives. My face hurt the next day from smiling so much and I barely touched my food – I just couldn't wait to dance.  I've never been so happy in my whole life."
"Tony and I did everything very quickly as we didn't know if the wedding would actually happen. I couldn't have done it without him taking time off work and the endless lists I was constantly making. We must have planned the order of the day over and over to get all our timings right. Having two parents that have worked in hospitality and constantly reviewed our lists and made new ones also helped tremendously. On the day. I knew mum and dad wouldn't relax or be 'off duty' until everything was ready and organised. I can't thank them and my sisters enough for everything they did for us."
"I wouldn't have changed anything about the day apart from having our photographer for longer."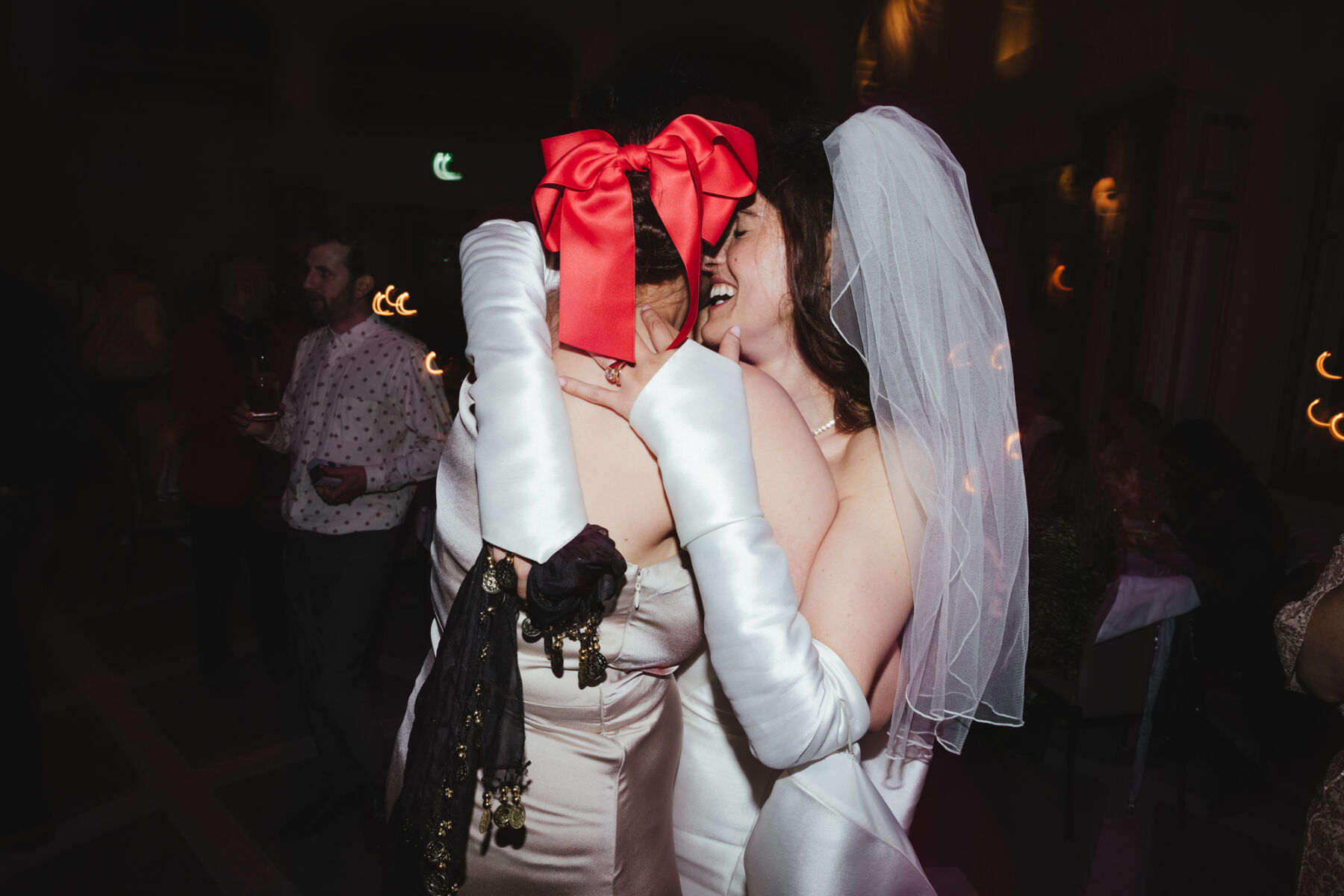 So many congratulations to you both, Lara and Tony, and thank you for sharing your wonderful day with us. It's been a pleasure to share your incredible work here, Matilda Delves Photography, and thank you too.
For more eighties-inspired weddings, please enjoy these previous features on Love My Dress.
Ele x